commercial
Wave of money set to flow into real estate
January 19th 2017 | Urban Property Australia, Australian Property Journal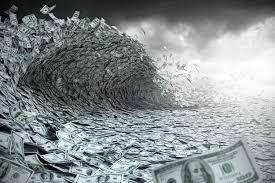 Money_Wave
AT least US$57.3 billion is expected to flow into global real estate in the year ahead, with Sydney and Melbourne overtaking Tokyo as the preferred markets, according to the global Investment Intentions Survey 2017.
The survey published by INREV, ANREV and PREA, found more than half of investors surveyed plan to increase their global real estate allocations over the next two years.
The US$57.3 billion figure represents a total average target allocation of 11.5% for investors – up 1.5% from current allocations.
The appetite was strongest from European investors – up from 9.4% currently to 11.5%.
Asia Pacific was not far behind with intentions of increasing their target allocations to real estate from 8.4% to 10.4%.
Within Asia Pacific, the top three investment destinations continue to be Sydney, Melbourne and Tokyo. Tokyo slipped from first place in 2016 to third this year, being replaced by Sydney. Other Australian cities, including Brisbane and Perth, rank in fifth place, displacing Hong Kong and Macau to eighth.
ANREV director of research and professional standards Amélie Delaunay said the strong performance of the Australian market as well as the overall level of transparency that the country provides, continues to attract investors from other regions.
"In particular, the main cities of Sydney and Melbourne remain attractive for investors given the amount of core stock available," Delaunay said.
For the second consecutive year, China Tier 1 cities (namely Shanghai, Beijing, Shenzhen and Guangzhou) are in fourth place.
The office market remains the preferred sector with 89.6% of respondents favouring the asset class, consistent with the past four years.
In particular, investors listed Sydney office market as their preferred sector and location combination, followed by the Melbourne office and Sydney retail markets.
It was followed by the Tokyo office market, which interestingly was the most preferred in 2016.
Most notably however, the China Tier 1 cities office market has slipped to 12th position from an equal third in 2016 and Seoul is back in the top 10 preferred cities / sectors destinations for 2017 investment with 41.7% of investors indicating they will invest in office real estate in the city.
Fund managers also favour the Sydney retail, Tokyo office, Sydney industrial and logistics, and Tokyo industrial and logistics markets equally, with 50% of respondents interested.
The survey also found North American investors are mostly on target with the aim of growing their real estate allocation by 80 bps from 11.3% to 12.1%.
However, more detailed analysis reveals significant discrepancies between large and small investors on a weighted basis. While all investors plan to increase their allocations to real estate, larger investors will still maintain a lower allocation to this asset class as a proportion of total assets under management, than their smaller peers. North American investors expect to increase their allocation to real estate by 80 bps, compared to 200 bps and 210 bps for Asia Pacific and European investors, respectively.
Around half of the expected investment capital (49%) will come from European investors, with 36.3% from North American investors and 13.8% from investors from the Asia Pacific region. Interestingly however, the US is expected to attract the largest percentage of total capital earmarked for investment at 40.9%; while 36.4% is predicted to be heading to Europe and 18.0% to Asia Pacific. The Americas (ex US) will attract a small but growing 4.8% share of the total capital. This picture suggests that, in general, investors will be adopting a more diversified global investment strategy than previously.
Investors in the region again highlight their preference for core assets (39.7%), closely followed by value added (38.1%) and opportunity (22.2%) in line with 2016. By domicile, Asia Pacific investors (57.7%) favour core investments in comparison to Europeans who have a preference for value added and North Americans who prefer opportunity investments.
A total of 76.3% of the respondents who invest in Asia Pacific are invested in non-listed real estate funds. Non-listed property funds remain the preferred route to increase real estate allocations for the majority of investors in the region (41.3%), followed by joint ventures and club deals at 33.7%.
Australian Property Journal