Q1 2019 – Melbourne Retail Market
April 10th 2019 | UPA, Urban Property Australia
Retail spending growth in Victoria outperformed all other major Australian states;
Total vacancy across Melbourne's prime retail strips remains elevated, with vacancy increasing to a 10-year high of 8.9%;
Employment, residential population and tourist growth continues to underpin demand for CBD retail space;
Total transactions reached $2.7 billion in 2018, the second highest volume on record.
Looking ahead with e-commerce expected to continue to increase, rental growth will remain subdued for retail assets while as a result of increased investor caution, there is an increasing likelihood that yields for retail assets will ease from the record low levels.
Retail Trade
Although retail trade increased in all major Australian states over the year, the rate of retail sales growth remains below the long-term average, suggesting that consumers are becoming increasingly cautious impacted by the housing market.
Retail spending growth in Victoria outperformed all other major Australian states in the 12 months to February 2019, increasing by 4.2%. However, annual growth remains below Victoria's five-year annual average growth rate of 4.8%.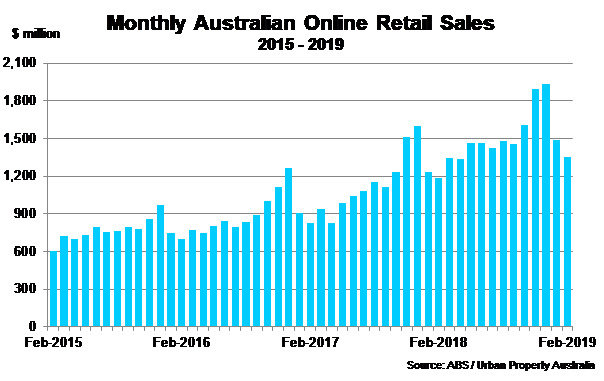 Monthly Australian On Line Sales
Consistent with Victoria's strong population growth, Food (7.0%), Hardware supplies (7.1%) and Clothing (6.1%) recorded annual growth above their five-year average in the 12 months to February 2018.
Retail vacancy rate changes were mixed by state and by sub-sector over 2018. Shopping centre vacancy rates have been impacted with store rationalisation and a number of local retailers falling into administration over the year.
Online retail trade in Australia continues to gradually take a larger share of overall spending. According to the ABS, in February 2019 online sales made up 5.6% of total retail sales. Over the year to February 2019, Australian online sales grew by 14%, with Australian consumers spending approximately $28 billion online.
While in recent years, consumption growth has been relatively resilient with spending exceeding income growth as the household saving ratio declined, looking ahead the recent declines in housing and equity prices is likely to weigh on household wealth, resulting in retail trade continue to soften in 2019.
Retail Strip Market
Total vacancy across Melbourne's prime retail strips remains elevated, with vacancy increasing to a 10-year high of 8.9%, reflecting the subdued trading conditions and reduced discretionary spending. Of all of Melbourne's prime retail strips, only the vacancy rate of Toorak Road, South Yarra and High Street, Armadale sits below their long-term averages. Over the year to January 2019, only Toorak Road, South Yarra and Acland Street, St Kilda recorded decreases in vacancy. In contrast, Melbourne's iconic Chapel Street, South Yarra rose to its highest vacancy level on record at 15%. As has been the case since 2012, the vacancy rate of Bridge Road, Richmond remains highest amongst the prime retail strips with the current vacancy sitting at 22%.
Tenant demand for Melbourne's retail strips continues to be driven by food-based retailers, typically at the expense of clothing retailers. While the growth of food retail in the strips has been underpinned by the number of apartments recently completed close to the popular shopping precincts, increasingly retail is being driven by experiential shopping.
Despite the elevated vacancy levels and soft retail trading conditions, investment demand for strip retail assets remains solid with transactions demonstrating yields between 3.5% and 5.0% for properties on prime strips.
Rising population, employment and tourism is expected to boost retail trade and lower vacancy rates in the medium term. Looking ahead, rents are expected to stabilise over the short term with vacancy plateauing and landlords gradually adapting to achievable rents.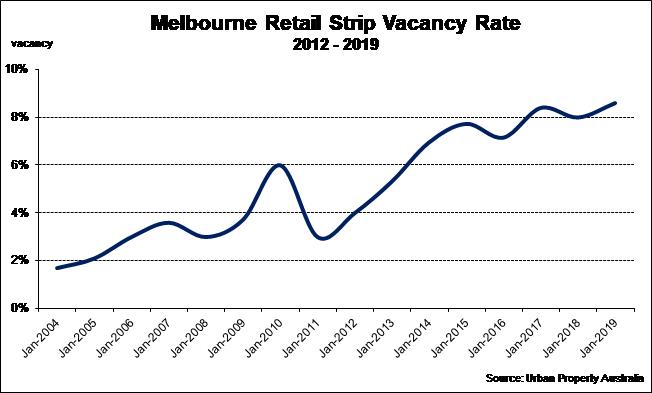 Melbourne Retail Strip Vacancy Rate
CBD Retail Market
As at September 2018, Melbourne's CBD retail overall vacancy remained stable to 3.2% with a slight increase of vacancy in street frontage premises shopping centres compared to spaces in shopping centres which saw vacancies fall. Over the year, most of the incoming tenants into the Melbourne CBD comprised occupiers from food retailing with international brands also increasing their presence in the Melbourne CBD retail market.
Melbourne CBD-based employment and residential population growth continues to underpin demand for CBD retail space from both domestic and international retailers. According to the Australian Bureau of Statistics, between June 2017 and June 2018 the City of Melbourne's residential population increased by 6.8% to reach 169,961, while employment increased to 461,000.
Furthermore, total inbound international tourism numbers for Victoria increased by 5.4% to reach 3.04 million over the 12 months to December 2018, with Chinese tourists leading the influx which has supported the continued growth of luxury international retailers in the Melbourne CBD retail market.
International retailers who have recently opened stores in the Melbourne CBD include: Bremont and Tag Heuer while Christian Louboutin has a second premise scheduled to open in the second half of 2019.
Construction of the Melbourne Metro Tunnel project will continue to result in some disruption to retail trade, however longer term it is expected the addition of two new CBD rail stations will positively impact retail trade in Melbourne's CBD.
Sales Activity
2018 marked another very active year for the Victorian retail investment market. Total transactions reached $2.7 billion in 2018, the second highest volume of retail sales and 50% above the long-term average. Sales volume in 2018 was boosted by a number of significant transactions highlighted by QIC's recent purchase of two 50% stakes in the Werribee Plaza and Pacific Epping shopping centres which totalled $500 million in June 2018.
Domestic institutions dominated Victorian retail sales acquisitions 2018 as many capitalised on the opportunity to invest in regional and major-regional shopping centres with QIC, GPT, Charter Hall and Newmark Property all acquiring major retail assets. Yields remained stable in the 12 months to January 2019 reflecting the soft retail trade conditions despite the elevated transaction volume.
Looking ahead, the volume of Victorian retail transactions across retail asset classes could reach a new record high in 2019, with already $7 billion of potential sales across Australia currently being marketed as many landlords seek to divest non-core assets.
Copyright © 2019 by Urban Property Australia All rights reserved. No part of this publication may be reproduced in any form, by microfilm, xerography, electronically or otherwise, or incorporated into any information retrieval system, without the written permission of the copyright owner.