Melbourne Retail Market – August 2016
August 11th 2016 | Urban Property Australia, UPA
Looking ahead, retail sales are likely to remain subdued. The key driver of consumer spending is household income, and the two factors driving that – wages growth and employment growth are both struggling.
Sales Activity
Against a backdrop of global political instability, Australian retail property assets are becoming increasingly popular with offshore investors. Offshore investment accounted for 26% of all Victorian retail property purchases in 2015/16 up from 8% in 2014/15.
A lower Australian dollar together with unparalleled uninterrupted years of economic growth continues to attract foreign based investor interest.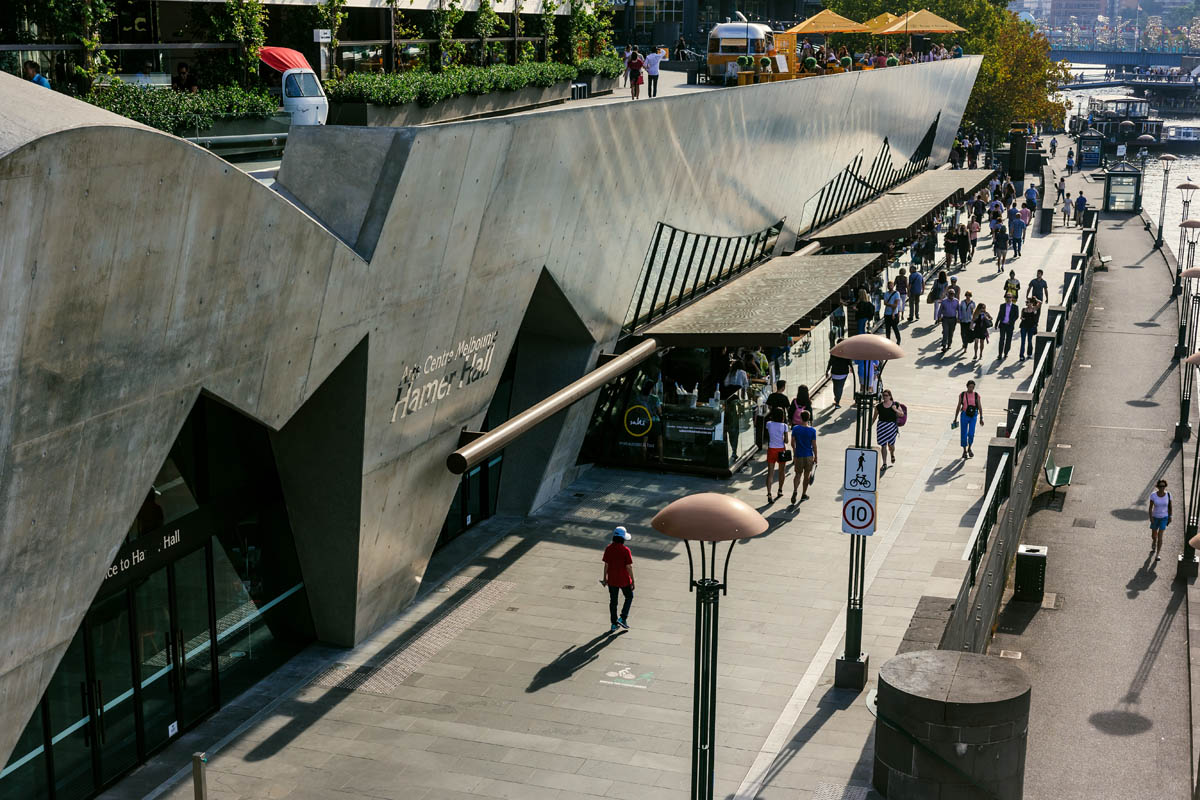 Southbank, Melbourne
Within Victoria, investor interest is strongest for CBD-based assets, highlighted by US-based real estate investment management company TH Real Estate purchasing a 30% stake in the Myer Centre for $150 million and local unlisted property fund manager ISPT's acquisition of 206 Bourke Street for $116 million. However, the difficulty of acquiring these assets has resulted in investors converging on neighbourhood shopping centre investment opportunities.
Within the CBD retail specifically, sustained demand compared to relatively limited investment opportunities in the CBD market, resulted in a firming of CBD retail yields over the past year with prime yields for freehold retail ranging between 3.0% and 4.5%.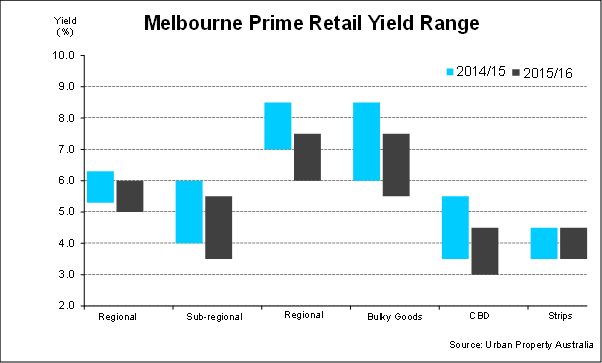 Melbourne Prime Retail Yield Range
Retail Trade
Australia's retail sales remain underwhelming with monthly retail trade only rising by 0.1% in June 2016 to $25.044 billion. Over the first half of the year, year-on-year growth rate slowed to just 2.8%, the weakest annual growth since July 2013.
According to the ABS, sales of clothing and footwear grew by 3.5% over the month, household goods (0.3%) and department stores (0.7%), offsetting declines in food retailing (-0.6%) and cafes & restaurants (-0.1%). By state, sales rose in Queensland (1.1%) and WA (0.1%) but fell in NSW (-0.2%), Victoria (-0.1%), the ACT (-0.6%), the NT (-1.1%) and Tasmania (-0.2%). Turnover in SA was relatively flat.
Looking at online sales specifically, sales exceeded $20 billion for the first time in 2016 as strong domestic growth offset flat sales at offshore retailers and double-digit gains in fashion and takeaway food countered weakness in department stores and daily deals sites.
According to the National Australia Bank, online retail sales rose by 0.8% in June, down from 2.2% growth in May, but lifting online sales for the year to June by 13.5% to $20.1 billion. Online sales at domestic retailers rose 1.1% in June and 16.9% over the year, while international sales rose 0.5% in June and 0.9% year-on-year as the weaker Australian dollar made offshore purchasing less appealing. Domestic spending now accounts for 80% of total online retail sales, compared with 75% three years ago, when the Australian dollar was at near-parity with the US dollar.
By retailer size continues to show small retailers registering little or no growth with sales growth slowing for large food retailers but maintaining solid momentum for other large retailers (5.7% over the year).
Looking ahead, retail trade is likely to remain subdued. The key driver of consumer spending is household income, and the two factors driving that – wages growth and employment growth are both struggling. Over the past year, growth in wage rates was the slowest on record, while the number of wage-earning hours worked rose at less than half the normal pace.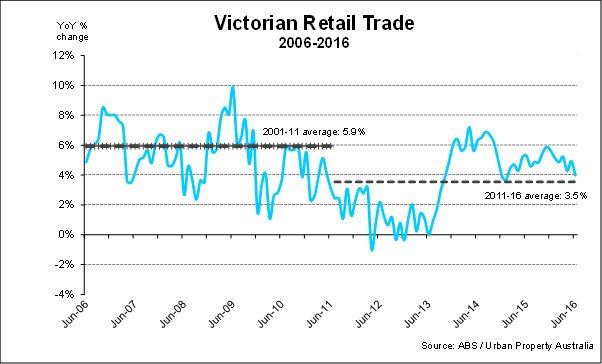 Victorian Retail Trade
Retail Strip Market
Total vacancy across Melbourne's prime retail strips has fallen 25% over the last four years, driven largely by population growth attracted to Melbourne's most popular shopping and entertainment precincts.
The overall vacancy rate had fallen from 9.5% to 7.0% over the four years. Glenferrie Road, Hawthorn and Church Street, Brighton recorded the tightest vacancy rates of 2.1% and 2.3% respectively while Bridge Road remains highest amongst the prime retail strips at 13.6%.
Tenant demand has been driven by food-based retailers and service retailing occupants boosted by the population growth that has resulted from the number of apartments recently completed close to the popular shopping precincts.
Private investors continue to dominate retail strip sales activity which has only further intensified with the emergence of the self-managed super funds coupled with record low interest rates. Investment demand for strip retail assets remains intense with transactions demonstrating yields between 3.5% and 4.5%.
Rising population is expected to boost retail trade and lower vacancy rates in the medium term. Looking ahead, rents are expected to stabilise over the medium term with lower vacancy and landlords gradually adapting to achievable rents.
CBD Retail Market
Melbourne CBD-based employment and residential population growth continues to underpin demand for CBD retail space from both domestic and international retailers.
Over the past three years white collar employment has grown by 13,751 workers in the CBD, while the residential population has increased by 21,455 over the same period. Total inbound tourism numbers into Melbourne grew by 13.3% to 2.4 million over the 12 months to May 2016.
Currently Melbourne's CBD retail vacancy is sitting at its lowest level in five years with vacancy falling from 3.2% to 2.0%. Over 2016, most of the incoming tenants into the Melbourne CBD comprised occupiers from food retailing and clothing sectors, boosted by the new residents.
New retail supply within the CBD retail remains confined to the refurbishment of a number of existing centres capitalising on the continued demand from international retailers. Recent refurbishments include Emirates House, located between Swanston and Elizabeth Streets while St Collins Lane which stretches between Little Collins and Collins Streets was recently completed.