Melbourne Metropolitan Office Market 2016
March 4th 2016 | UPA, Urban Property Australia
In 2015, total employment increased by 305,000, the second strongest year of job creation on record with the unemployment rate appearing to have peaked."
Tenant Demand
Having peaked at 6.2%, Australia's unemployment rate fell to 5.8% as at December 2015, boosted by the strength in retail and hospitality sectors. Total employment has now grown 301,300 or 2.6% over 2015. Importantly full-time employment increased by 187,200 over the year with part-time employment rising by 114,100, which should lead to increased demand for office accommodation.
The improvement in the labour market has been the greatest in NSW where the unemployment rate has dipped to a national low of 5.2% and the state's pace of employment growth is a very robust 4.4% over the year which is consistent with a rebalancing of growth away from resources and towards services. This is also seen in Victoria, if to a lesser extent, where employment growth is running at a 2.6% pace. Employment in WA has levelled at a growth rate of 0.5% over 2015 with its unemployment rate now above the national average at 6.3%.
According to the Australian Bureau of Statistics, over 2015, Victorian employment growth was largely driven by the health care, construction and professional services sectors.
In terms of traditional white collar employment sectors, employment levels appears to be improving with finance and professional services sectors both rebounding having contracted over 2014. Public services employment however was muted with total employment contracting by 10,000 employees over the 12 months to November 2015. In the year to November 2015, Victorian employment increased by 3.1%, its fastest growth rate since 2000.
Looking ahead, Job advertisements continue to rise in Australia registering a 1% monthly increase in January 2016 and are up 10.8% over the year to January 2016, confirming the broader cyclical upswing in hiring intentions that has been evident since early 2014.
White collar employment growth is forecast to continue to gather momentum across Victoria with employment in the suburbs projected to increase at a faster rate than the St Kilda Road office precinct, which should result in office space demand increasing with tenants' preference for space in the City Fringe and Inner Eastern office markets in particular.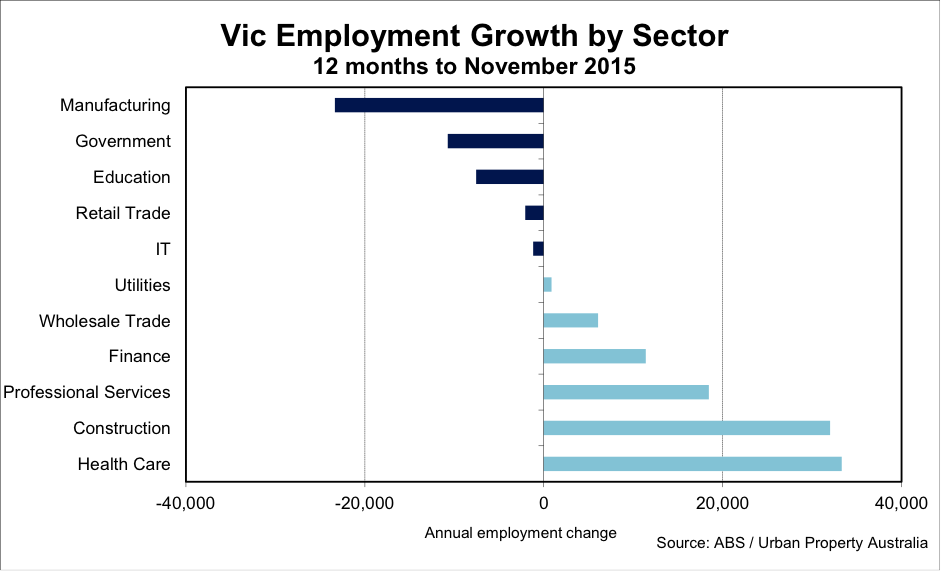 Vic Employment Growth by Sector
New Supply
Having recorded its highest level of new supply since 2009 in 2015, the pipeline is more constrained with a total of 90,000 square metres currently under construction within the metropolitan market over the next three years. The majority of development is remains concentrated in the Outer Eastern which has been boosted by an increased level of speculative development.
Vacancy & Rents
Currently the Melbourne suburban office vacancy rate sits at 7% down from 7.5%, 12 months earlier. On the back of a number of major completions and tenant relocations, vacancy rates increased in the Outer East and South East, however vacancy rates within the City Fringe and the Inner East have decreased down to two-year lows.
Since 2012, net face rents across the suburban office market have largely remained stable, reflecting the subdued tenant demand environment.
Whilst incentive levels on average have risen in the suburban office market, of interest are the differences in levels across the regions. With vacancy falling significantly, incentives for City Fringe and Inner Eastern located offices typically average 15%. In contrast, as a result of the surge of speculative development and tenant vacations, incentives across the outer suburban office regions increased to average 25%.
Sales Activity
Office investment sales activity in the Melbourne metropolitan office market over 2015 totalled $900 million. The volume of sales achieved in 2015 was 300% higher than the long term average, and set an all-time record of spending for the Melbourne metropolitan office market.
Offshore investors were the most prominent purchasers in the metropolitan office market as demonstrated by Korean-based FG Asset Management's acquisition of the ATO office in Box Hill for $156 million.
Australian-based private investors were also active purchasers, acquiring more than $100 million of metropolitan offices over 2015.
This increasing weight of capital resulted in competitive bidding which resulted in yield compression with average prime metropolitan office yields now ranging between 6.50% and 7.50%.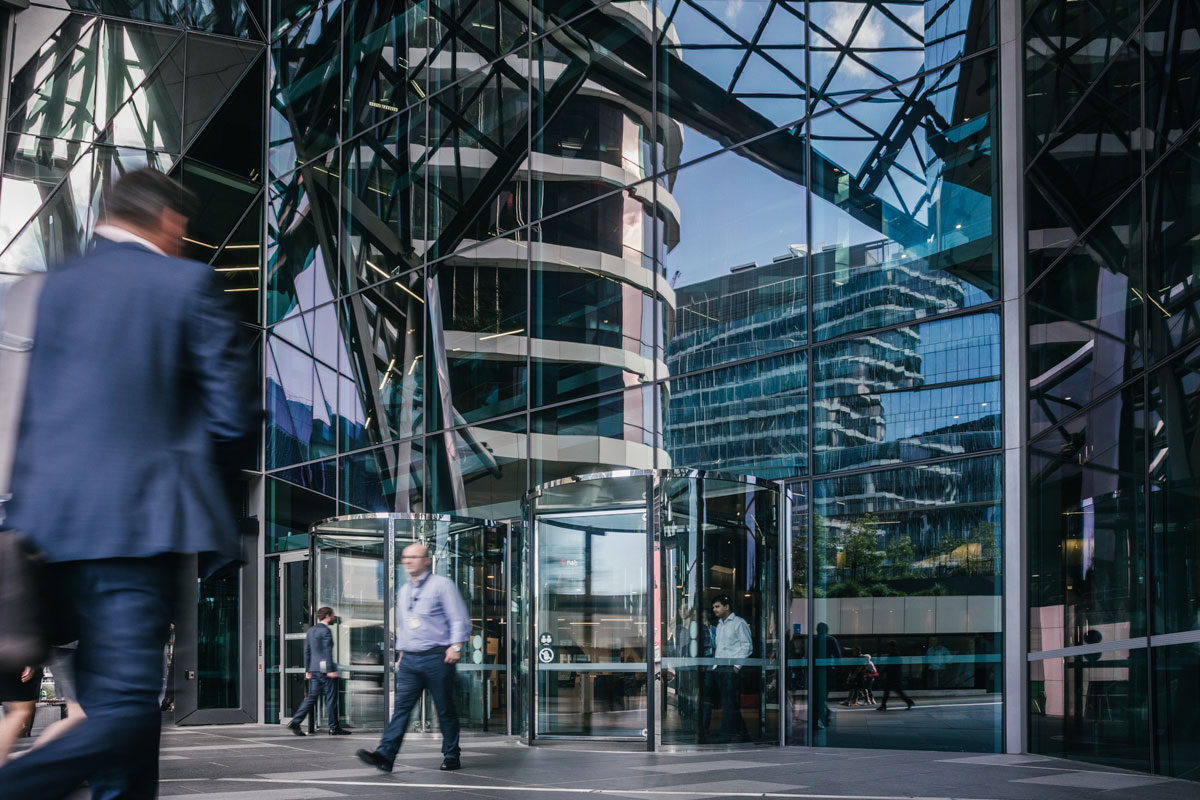 CBD, St Kilda Road & Southbank office markets
Melbourne's office market has strengthened over the second half of 2015 with the overall vacancy rate falling from 8.1% to 7.7%. Melbourne continues to host the second lowest vacancy rate amongst all of Australia's CBDs. A total of 71,768sqm of new stock is due to enter the CBD office market in 2016; however no further space is in the pipeline in the short or medium term.
Investment interest in the Melbourne CBD remained strong in 2015, with sales volumes achieving the third highest annual level on record.
Office investment sales activity in 2015 within the Melbourne CBD totalled $2.67 billion, while below in 2014 levels, still 63% higher than the 10-year CBD sales volume average. Cross border investment into the Melbourne CBD continued to gather momentum, achieving record high levels for the past three consecutive years driven by US-based groups.
In the St Kilda Road office market, total vacancy improved from 9.3% to 8.9% over the six months to January 2016 due to 15,685sqm of office buildings withdrawal for residential redevelopment.
In the Southbank office market, vacancy rate fell from 8.7% to 8.4% due to 3,587sqm of withdrawals, also for residential redevelopment. This year, 51,000sqm of office space is scheduled for completion.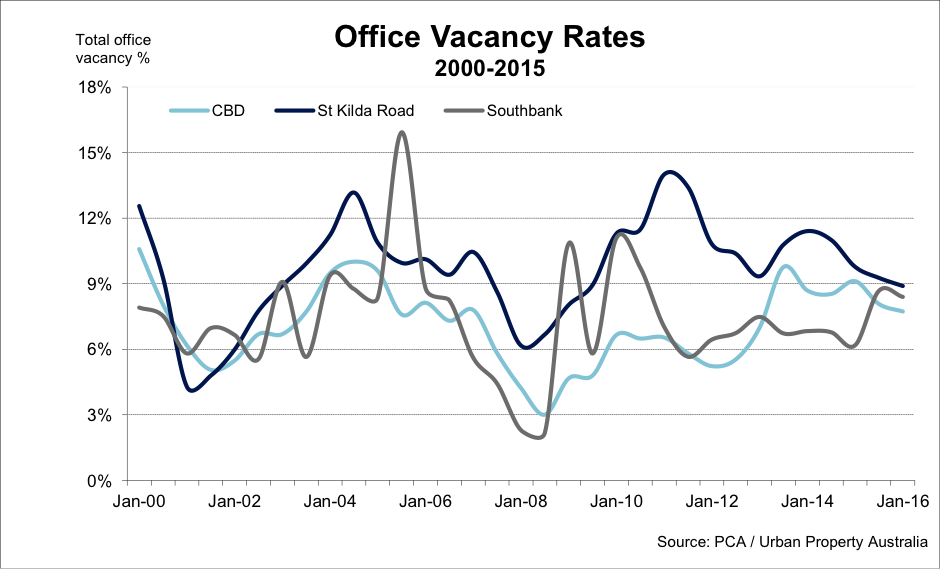 Office Vacancy Rates