May 2020 – Melbourne Residential Market
May 13th 2020 | UPA, Urban Property Australia
The Melbourne home value index has risen by 12% over the year to April 2020, however diminished population growth is likely to place downward pressure of prices;
Vacancy rate for Melbourne residential property has risen to 2.8% as at April 2020, up from 1.9% in March 2020 with elevated unemployment expected to result in rental levels falling through 2020;
New housing supply in Victoria is projected to fall to 10-year lows with dwelling approvals 8% lower than last year and diminishing appetites from financiers to fund new developments.
Residential Market Summary
Although latest Melbourne housing values reached all-time highs again as at April, given the collapse of consumer confidence levels and the impending slowdown of population growth, demand for residential property will soften through the remainder of 2020. Urban Property Australia expects that the diminished demand for residential property will adversely impact housing prices and rental levels.
Prices
According to the CoreLogic, Australian housing values have not seen any evidence of a material decline in April, despite a sharp drop in market activity and a severe weakening in consumer sentiment. According to CoreLogic, values of detached houses in Melbourne have risen by 11.5% in the 12 months to April 2020 with house prices having increased by 12.8% over the same period. According to CoreLogic, both apartment and house prices in Melbourne have reached all-time highs as at April 2020. Urban Property Australia considers that the increased level of unemployment and reduced population growth will result in housing prices declining by around 10%, before recovering in 2022, mirroring the improving economy.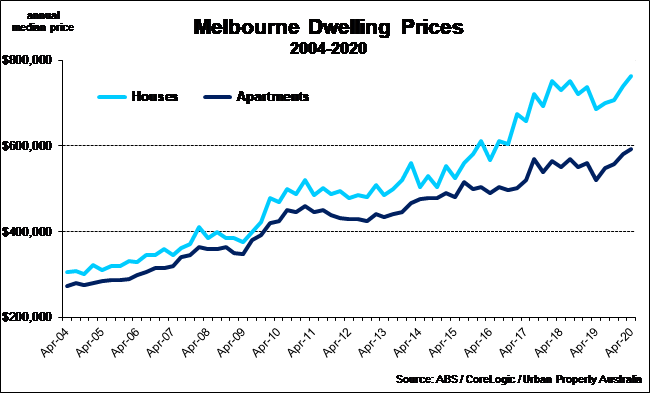 Melbourne Dwelling Prices
Supply
Impacted by the tighter lending environment of 2018, according to the ABS, there are currently 62,900 dwellings under construction across Victoria, 14% lower than the peak of 73,100 as at March 2018 but still 13% above the 10-year average. Looking even further ahead, Urban Property Australia forecasts that Victoria's housing pipeline will decline significantly, with mobility restrictions and slumping migration as a result of the COVID-19 pandemic slashing demand. In the 12 months to March 2020, a total of 58,700 dwellings were approved in Victoria, 8% lower over the preceding year. Reflecting the slowdown of the development of apartment developments, approvals for houses now account for 60% of all dwellings, compared to 52% in mid-2018.
Demand
Although prices have recovered back to a new all-time high, given that international migration accounts for 63% of Victoria's population growth, demand for property in Melbourne has softened considerably, impacted by the ban of international migration as a result of the COVID-19 pandemic. Reflecting the weakening demand for residential property, the volume of monthly While total Victorian housing finance commitments recently fell to its lowest level since June 2019, in contrast, loans to first home buyers have risen 36% over the year. The share of first home buyers now account for 35% of all finance commitments in Victoria, significantly higher than their proportion of 11% in 2016.
Mirroring the softening housing finance loan activity and falling consumer confidence levels, the number of monthly dwelling transactions across Melbourne has fallen to its second lowest monthly level in seven years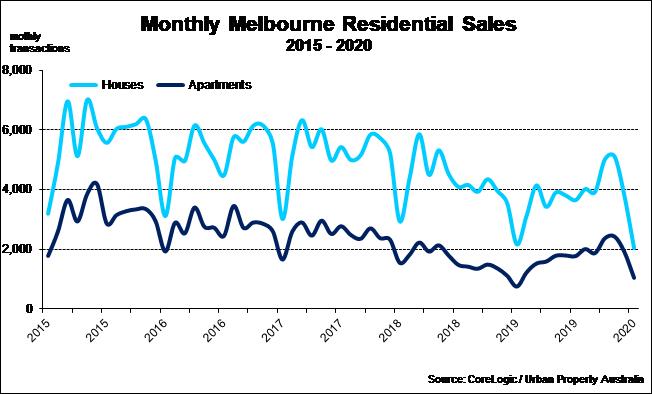 Monthly Melbourne Residential Sales
Vacancy
According to SQM Research, as at April 2020, in the Melbourne CBD, the proportion of untenanted rental properties climbed to 7.6% – slightly lower than the peak recorded in December 2010 when the vacancy rate hit 8.2% with rental vacancies in Southbank rising to 13%, an all-time high for the suburb. Elsewhere, vacancies in the Sydney CBD soared to a record 13.8% in April 2020 – more than doubling the 5.7% vacancy rate recorded during March 2020. Similarly, vacancy rates in the Brisbane CBD also spiked to an all-time high of 11.3%, also more than doubling the amount recorded in the previous month. Looking ahead, Urban Property Australia projects that the vacancy rate for the metropolitan Melbourne area will rise to five-year highs, impacted by the dearth of overseas students and an overall decline of international migration.
Rents
According to the REIV, over the year to March 2020 the weekly median rent for houses in metropolitan Melbourne rose to $470 per week, however rents for the metropolitan Melbourne market have likely peaked for the medium term with rental demand adversely impacted by the weak labour market conditions associated with sectors that are also synonymous with renters  such as casual employees, accommodation and food service workers and those in the arts & recreational sector. The weekly median rent for units remained steady in metropolitan Melbourne at $430 per week as at March 2020. By sub-region, rents for apartments in the middle suburbs grew by 4.8% whereas rents for apartments in the inner suburbs were steady over the year.
Copyright © 2020 by Urban Property Australia All rights reserved. No part of this publication may be reproduced in any form, by microfilm, xerography, electronically or otherwise, or incorporated into any information retrieval system, without the written permission of the copyright owner.