May 2020 – Melbourne Apartment Market
May 13th 2020 | UPA, Urban Property Australia
Almost 8,000 apartments are projected to be completed in the Inner-City Melbourne precinct in 2020, the second highest annual total of new supply;
Transactional activity of Inner-City apartments continued to decline, with sales volume now 77% below levels recorded five years ago;
The constraints on international migration have begun to impact the Inner-City apartment market with vacancy levels having risen to its highest level since 2003.
Inner-City Melbourne Apartment Summary
Demand by both purchasers and occupiers has begun to soften for Inner-City apartments, as reflected by increase in vacancy levels and limited price growth. Constrained by tighter lending conditions for developers and diminishing buyer appetite for Inner-City apartments, the development pipeline for Inner-City apartments is projected to decrease in coming years.
Development
As at May 2020, there are 72,100 apartments in the City of Melbourne. Over the past decade, 43,200 apartments were added to the City of Melbourne, increasing the stock by 131% over the number of apartments available in 2011. In 2020 to date, 205 apartments have been completed with a further 7,400 apartments scheduled for completion this year.
Currently there are 16,700 apartments under construction within the Inner-City Melbourne region scheduled for completion by 2022. Of the 96 new developments currently under construction and projected to be completed by 2022, 49% of the apartments are located in the CBD Core, with 24% based in Southbank and 7% located in the Docklands.
While there are 36,000 apartments with plans approved in the Inner-City Melbourne region, Urban Property Australia's research forecasts that the supply pipeline has peaked in the short term. Although credit restrictions for buyers have eased, development lending from major banks remains constrained, limiting new apartments coming online.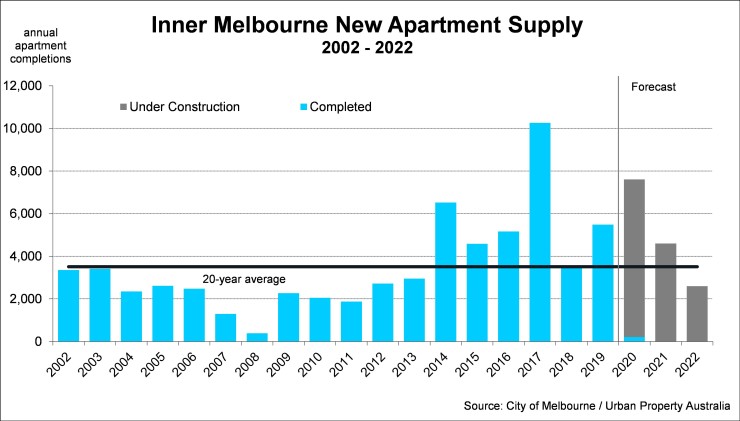 Inner Melbourne New Apartment Supply
Demand
In addition to the reduction of availability of housing finance, foreign investment demand has weakened significantly, impacted by a range of factors including the Chinese government's updated guidelines on outbound investment coupled with the introduction of state-based taxes on foreign investors.
Following more than a year of tightened lending conditions focussed on limiting the growth of investor loans for both domestic and offshore purchasers. New apartment purchaser activity in Melbourne has fallen significantly from its 2014 peak. Having once accounted for 45% of all housing finance in early 2015, investor lending in Victoria now accounts for 27%.
Having peaked at 9,600 apartment transactions over 2014, over the year to January 2020, transaction volumes for apartments in the Inner-City Melbourne precinct have fallen to 2,200, having declined for five consecutive years.
According to SQM Research, as at April 2020, in the Melbourne CBD, the proportion of untenanted rental properties climbed to 7.6% – slightly lower than the peak recorded in December 2010 when the vacancy rate hit 8.2% with rental vacancies in Southbank rising to 13%, an all-time high for the suburb. According to SQM Research, the vacancy rate of the Melbourne metropolitan area increased to 2.8% in April 2020, up from 1.9% in March 2020 and its highest level in five years.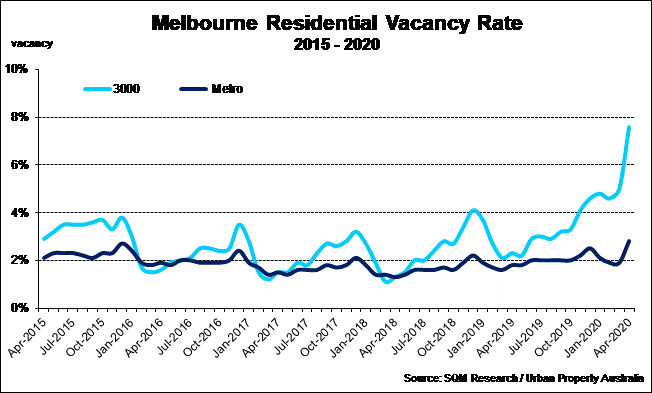 Melbourne Residential Vacancy Rate
Median Prices & Rents
Although Inner-City Melbourne median apartment prices appear to have stabilised at $515,000, values remain below the peak of $535,000 in early 2016 according to CoreLogic. In contrast, median prices of apartments for the broader metropolitan Melbourne market have increased to an all-time high as at January 2020 according CoreLogic. With prices having stabilised for Inner-City apartments, average vendor discounting and median time on market have also both remained steady over the year to January 2020.
Buoyed by the low vacancy rates, apartment rents in the Inner-City Melbourne precinct have grown strongly, rising by 4% over the year to reach an all-time high of $540/week. Looking ahead, Urban Property Australia research expect Inner-City apartment rents to have peaked in the short term with demand for apartments in the Inner-City to be adversely impacted by the absence of international students and incoming migrants to the city.
Copyright © 2020 by Urban Property Australia All rights reserved. No part of this publication may be reproduced in any form, by microfilm, xerography, electronically or otherwise, or incorporated into any information retrieval system, without the written permission of the copyright owner.