Industrial Market in 2013
January 23rd 2013 | UPA, ABS
The industrial sector can be characterised this year by a lack of prime grade stock and modest rental growth.
The pipeline of new supply of industrial stock remains tight, primarily due to difficulties in obtaining finance and achieving sufficient rental returns. Although development viability remains a challenge, increasingly in Melbourne, projects that are speculatively built, are often leased prior to completion.
The 'design and construct' approach has become the preferred solution for most tenants with limited alternative options for large tenants seeking quality accommodation. The retail and logistics sectors have been the major drivers of demand in the industrial market over the past two years. The strong Australian dollar will continue to make imports attractive and as Australian economic growth picks up, demand for distribution centres and warehouses will continue to fuel tenant expansion needs from these particular sectors.
These trends are expected to continue for each market this year and I expect that net face rents will grow modestly during 2013.
Despite the clouded business and consumer confidence, demand for prime assets with long lease terms and blue chip covenants remains strong. With institutions freeing up their debt obligations have re-emerged as a strong buyer group. Private investors remain active with Melbourne industrial property outperforming many other asset classes.
With prime grade yields in the range from 7.5 to 9.5 percent, I predict moderate rental increases and some opportunity for capital growth, particularly in logistics hub of Laverton North/Derrimut precinct.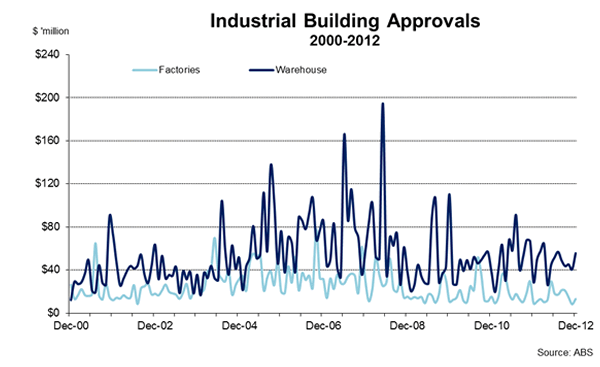 Industrial Building Approvals 2000-2012