Melbourne Retail Market 2016
March 4th 2016 | UPA, Urban Property Australia
Retail sales continue to show lacklustre momentum. Emerging signs of renewed restraint in discretionary suggests a more cautious approach to spending over 2016 than previously anticipated.
Retail Trade
Despite strong jobs growth, lower fuel prices, solid consumer confidence and strong inbound tourism, retail sales growth was disappointing in both December and the final quarter of 2015. Spending on household goods, which has been very strong in recent years, may now be showing some signs of losing momentum.
Monthly sales held flat in December (0.0%), following unspectacular gains in November (0.4%) and October (0.6%) resulted in only a modest pick-up in spending of just 0.6% over the final quarter of 2015. Over 2015 as a whole, retail trade in Australia totalled $292.1 billion, growing by 2.5%, a two year low growth rate.
NSW and Victoria have underpinned overall retail sales growth, in part reflecting property-related spending. In December, however, momentum appears to have waned as property market activity in these states slowed sharply.
The state breakdown of retail sales continues to show a widening mining vs non mining divide with retail sales growth is barely keeping pace with population in the mining states of Queensland, WA and NT.
Spending on household goods was surprisingly weak, falling 1% over December. Spending on cafes, restaurants & takeaway food also fell in December while department store sales were up a weak 0.1% over the month. The concentration of softness in discretionary categories suggests a more cautious approach to spending in the final month of 2015 with job loss fears and housing concerns perhaps coming back to the fore.
Large retailers continue to outperform small with large 'non-food' retailers showing particularly strong growth with monthly sales up 9.2% over 2015.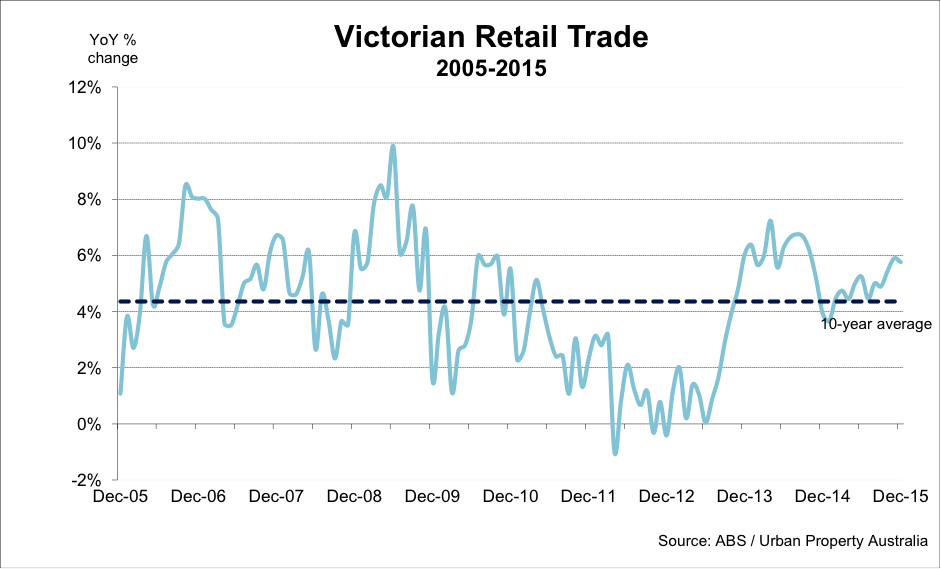 Victorian Retail Trade
Retail Strip Market
Vacancy within a number of Melbourne's prime retail strips fell over 2015, decreasing the total vacancy to 7.2%. Available space within the smaller strips remained relatively low. Church Street, Brighton remained the tightest retail strip with vacancy of 1%, with Toorak Road in South Yarra, Acland Street in St Kilda and Burke Road in Camberwell remaining relatively stable.
Although Bridge Road, Richmond saw its vacancy levels fall to 13% from 20%, its vacancy still remains highest amongst the prime retail strips. The fall in its vacancy level over the past year is more reflective of retail space withdrawals for residential conversion rather than increased tenant demand. While Chapel Street, South Yarra remains iconic, interestingly, a number of former Chapel Street tenants have relocated into locations in side streets off Chapel Street offering lower rents.
Rising population is expected to boost retail trade and lower vacancy rates in the medium term.
Looking ahead, rents are expected to stabilise over the medium term with lower vacancy and landlords gradually adapting to achievable rents.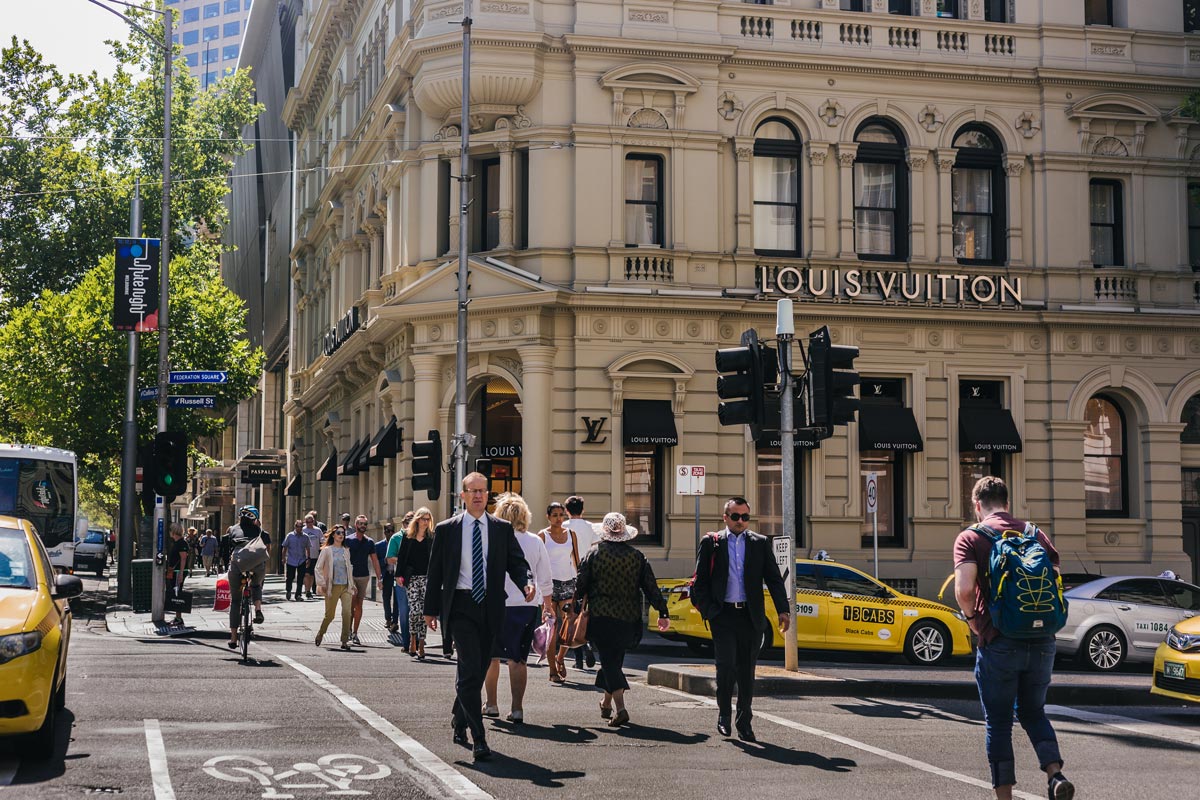 CBD Retail Market
CBD-based employment and residential population growth continues to underpin demand for CBD retail space from both domestic and international retailers. Over the past five years white collar employment has grown by 17,460 workers in the CBD, while residential population has risen by 30,049 over the same period.
Melbourne's CBD retail vacancy rate rose marginally in 2015, increasing to 3.2%, also slightly higher than the historical average. Over 20015, most of the incoming tenants into the Melbourne CBD comprised occupiers from food retailing, clothing and services sectors.
New retail supply within the CBD retail remains confined to the refurbishment of a number of existing centres capitalising on the continued demand from international retailers. As demand for prime space offering street frontage within the CBD continues to intensify, accordingly, rental levels have remained supported in contrast to some other Melbourne retail markets.
Sales Activity
Retail transactional levels in Victoria remained relatively stable with around $1.3 billion transacting for a second consecutive year. However there remains a mismatch between investment demand and supply. With a general lack of acquisition opportunities for regional and sub-regional shopping centres, investors focused on neighbourhood and bulky goods retail investment opportunities. With the lack of trophy assets available for purchase, in contrast to most other Victorian property commercial markets, offshore investment was scarce which may reflect their unwillingness to invest in assets that require significant management obligations.
Within the CBD retail specifically, sustained demand compared to relatively limited investment opportunities in the prime CBD market, resulted in a firming of CBD retail yields over 2015.
Likewise within the suburban retail strip market, despite little rental growth, yields remained tight with evidence of properties transacting between 3.5% and 4.5% with local private investors dominating retail strip sales.
The largest sale of 2015 was Armada Funds Management's acquisition of the Dandenong Plaza for $197 million from GPT Group in December. The sub-regional shopping centre was acquired by GPT in 1993 and was substantially refurbished in 2014 following department store Myer's exit.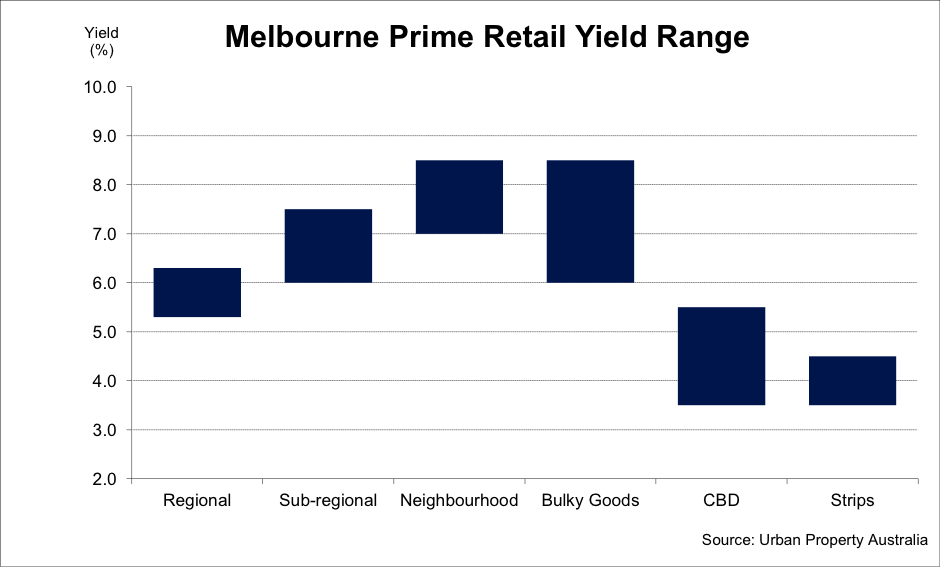 Melbourne Prime Retail Yield Range