Melbourne Residential Market 2016
March 4th 2016 | UPA, Urban Property Australia
The residential market is showing clear signs of slowing, both in terms of construction and house prices with rents growing at their slowest pace in 20 years.
Prices
While house prices increased nationally over 2015 as a whole, prices fell in Sydney, Melbourne, Perth and Darwin over the final quarter of 2015 impacted by the tighter banking regulations and softer buyer sentiment.
Looking ahead, dwelling prices are expected to continue to soften over 2016, particularly in Sydney, with population growth slowing, higher mortgage rates for investors in particular and continued uncertain economic conditions.
According to the REIV, Melbourne's median house price marginally eased over the final quarter of 2015, albeit from record levels set in the September 2015 quarter. The median house price for Melbourne eased by 0.1% over the final quarter of 2015, falling to $718,000, as at December 2015, although this still equated to annual growth of 8.0%. Growth in Melbourne apartment prices slowed over the second half 2015, given higher levels of existing stock on market The median apartment price increased by 1.6% over the December quarter to $537,500, however still recorded annual growth of 5.0%.
While prices of Inner Melbourne houses experienced annual growth of 17.0% over 2015, more recently Melbourne's outer suburbs were the main growth drivers in the December quarter which may indicate that buyers are increasingly seeking value in the more affordable parts of Melbourne.
Median House Price Growth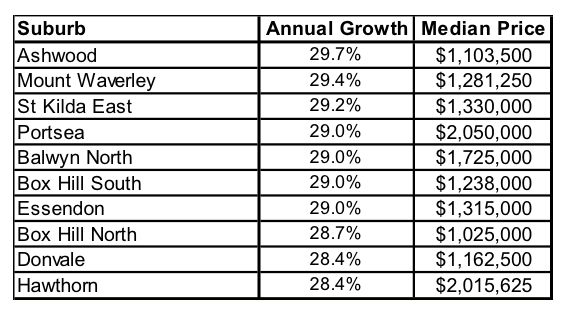 Source: REIV (year to December 2015)
Median Apartment Price Growth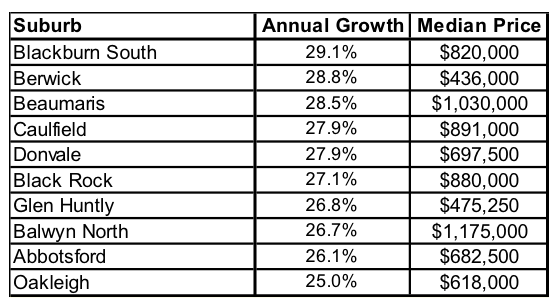 Source: REIV (year to December 2015)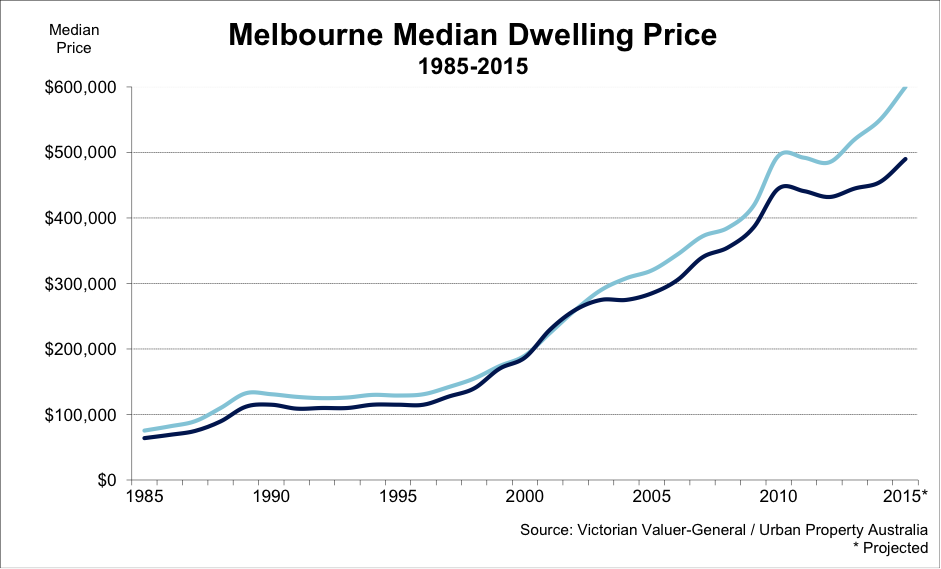 Melbourne Median Dwelling Price
Demand
Housing finance ended 2015 fairly stable with the total value of finance commitments increasing by only 0.2% over the year. Whilst housing finance was flat overall, owner-occupier mortgage lending increased by 14.9% over the year driven by the upgrader segment, which is now larger than the investor segment for the first time since August 2012. Meanwhile, first home buyer finance continues to slowly trend upward, with low interest rates and weaker price growth driving increased first home buyer activity
Changes in lending criteria and borrowing rates for investor loans significantly impacted investor finance levels with the value of loans to investors dropping by 19% between April and October but stabilised in the closing months of 2015, rising 1% in November and a further 0.6% in December, although still down 13.6% over 2015.
Although finance commitments for construction of new buildings are above building approvals levels, house prices and auction clearance rates suggest that soft sales market sentiment will weigh on home building approvals in 2016.
Vacancy
According to the REIV, as at November 2015, the vacancy rate for Melbourne residential property rose to 2.8%, having been stable at 2.8% since March 2015. However the Melbourne residential vacancy is still 50 basis points lower than its level a year ago. Within Melbourne's sub-regions, vacancy rates in the inner suburbs tightened 10 basis points over the month to 2.8%. Vacant space in the city's middle and outer suburbs both increased, up 10 basis points to 3.8% and 30 basis points to 2.2% respectively.
Interestingly, over the year to September 2015, vacancy rates fell in the inner suburbs but increased in the middle and outer suburbs.
Outside of the metropolitan area, in regional Victoria vacancy remained stable over the year at 2.3% as at November 2015. Vacant rental space decreased 20 basis points in the Bendigo and Loddon region, with other areas such as Shepparton, Mildura and Mallee experiencing similar tightening.
Rents
According to the REIV, the weekly median rent for houses in metropolitan Melbourne decreased slightly to $400 from $401 per week, while in regional Victoria, the weekly median rent for houses increased 5.2% to $305, up from $290. The weekly median rent for units remained stable in metropolitan Melbourne at $395 per week while the median rent for units in regional Victoria rose 4.2% to $250.
Melbourne's middle suburbs recorded the city's largest growth in weekly median rent for houses, increasing 2.6% in November to $400, up from $390 in October. For regional Victoria, Bendigo was the main growth driver with the weekly median rent for houses up 9.1% to $300 as at November 2015 following a dip in median rents in October. Ballarat also had an increase in weekly median rents, up 5.4% to $295 a week. The highest growth in weekly median rents for units was Geelong, increasing 4.5% to $293.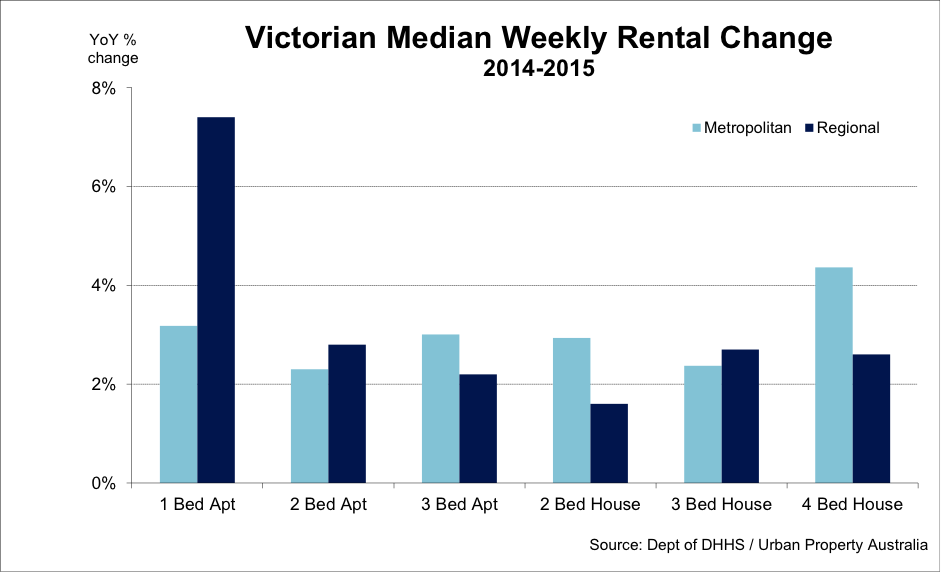 Victorian Median Weekly Rental Change