Victorian State Economic Outlook – July 2018
July 25th 2018 | UPA, Urban Property Australia
The Victorian economy has benefited in recent years from strong population growth and low interest rates, both of which have supported strengthening consumption and dwelling investment. Victoria's real gross state product (GSP) rose by 3.3% in 2016/17, the highest rate of expansion of any state and well above national real GDP growth of 2.0%.
The Victorian economy is expected grow by 2.75% in 2018/19 through to 2021/22 with household consumption and the Government's large infrastructure program expected to underpin growth. Victorian infrastructure investment forecast to average $10.1 billion a year to 2021/22, more than double the average of $4.9 billion a year from 2005/06 to 2014/15.
In addition to the State government's infrastructure commitments, the Federal Government provided $7.8 billion in the 2018/19 budget for further infrastructure projects in Victoria, including $1.75 billion for Melbourne's North East Link, $500 million for a rail link to Monash University's Clayton campus and a $5-billion contribution towards a rail link to Melbourne Airport.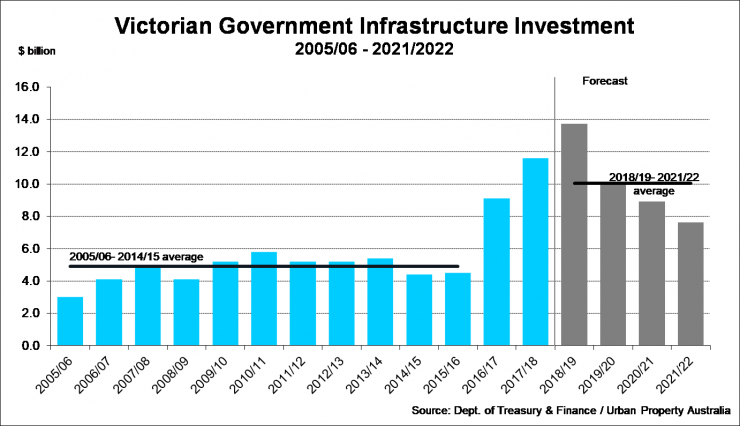 Victorian Government Infrastructure Investment
Strong economic conditions have generated record levels of employment, with total employment in Victoria reaching 3.27 million people – an all-time high as at May 2018, up 2.2% over the year. Employment growth has been broad based across industries over the past year, led by construction and professional services. Employment is forecast to grow by 2.0% in 2018/19, representing five consecutive years of above trend growth. The unemployment rate is anticipated to stabilise at 5.75% in 2018/19 before declining to 5.50% in 2019/20.
Over 2017, Victoria's population grew by 2.3%; increasing by 143,000 people, the largest population growth of all capital cities all the states, accounting for 37% of Australia's population growth over the year. Net overseas migration has been the largest contributor to population growth, accounting for more than 59% of the state's population increase over 2017. Population growth is anticipated to remain strong but to moderate to 2.0% by 2020/21.
Copyright © 2018 by Urban Property Australia All rights reserved. No part of this publication may be reproduced in any form, by microfilm, xerography, electronically or otherwise, or incorporated into any information retrieval system, without the written permission of the copyright owner.