Sydney – Property & Economic Update
October 31st 2017 | UPA, Urban Property Australia
Sydney is the state capital of New South Wales and the most populous city in Australia and Oceania, with a population of about 5 million.
Sydney has an advanced market economy with strengths in finance, manufacturing and tourism. There is a significant concentration of foreign banks and multinational corporations in Sydney, attracted in part because its time zone spans the closing of business in North America and the opening of business in Europe. In addition to being a leading global financial hub, Sydney is amongst the top 15 most-visited cities in the world.
Economy
The New South Wales (NSW) economy outperformed all other Australian states in the year to July 2017 and is forecast to do so again in 2017-18, with above-trend economic growth forecast over the next three years. The NSW economy will continue to benefit from low interest rates, a lower Australian dollar, strong demand from Asia, above-trend population growth and a historically large infrastructure and residential construction program.
Business investment, public infrastructure and dwelling construction are all showing significant strength, lifting construction activity and employment to record levels.
The state's $72.7 billion, four-year infrastructure program is expected to boost economic growth. Similarly, the labour market is forecast to improve in line with the strength in economic activity, with above-trend employment growth.
Office Market
The Sydney CBD office market is Australia's largest CBD office market, comprising 5.1 million square metres, but holds the lowest total office vacancy rate of 5.9 percent as of July 2017. Strong demand was seen in the upper grades of office space, particularly in premium office space where the vacancy rate dropped from 12.5 percent to 9.5 percent.
On the back of declining vacancy, Sydney CBD effective rents have risen across the grades. Sydney CBD's prime and secondary gross effective rents have increased by 10.3 percent and 16.3 percent respectively over the year to July 2017.
Sales activity is expected to increase in 2017 with $2.3 billion already transacted to date in the Sydney CBD office market, with a further $2.0 billion in due diligence. The September 2017 Situs RERC/UPA survey results reveal that the average unlevered yield for prime Sydney CBD assets is 5.0 percent with an average Internal Rates of Return (IRR) of 7.0 percent.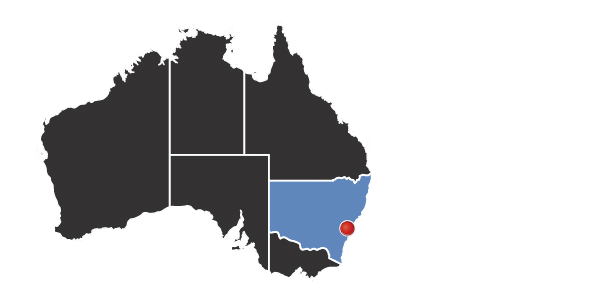 NSW has five of the top 10 markets with the lowest vacancy rates in Australia, demonstrating the strong employment growth recorded across the state in recent years. Buoyed by significant government and corporate pre-commitments, the office vacancy in Parramatta has fallen to a record low of 4.3 percent. Office stock in Parramatta is forecast to reach 1 million square metres by 2022, making it the largest office market in NSW outside of the Sydney CBD.
The North Sydney office market vacancy rate fell to 6.4 percent on the back of positive tenant demand stemming from both expansion and inbound migration.
The increased demand from multiple purchaser types have resulted in further yield compression across Sydney non-CBD office markets over the past 12 months, particularly in the secondary market.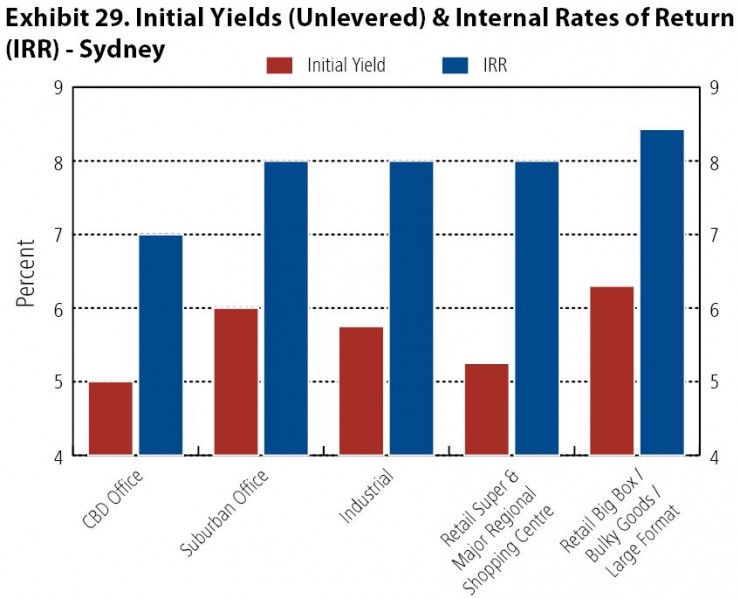 Exhibit 29
While opportunities for prime assets continue to be constrained by the lack of available stock on the market, opportunistic investors are targeting properties that offer potential for repositioning or redevelopment. Survey responses from the September 2017 Situs RERC/UPA survey reveal that the average unlevered yield for prime Sydney suburban office assets is 6.0 percent with an average IRR of 8.0 percent.
Industrial Market
Occupier demand in the Sydney industrial market continues to be robust with leasing activity levels above the long-term average. Given the difficulty in acquiring prime-grade stock, many institutions have sought to expand development pipelines and increase assets under management.
The arrival of Amazon is expected to have a positive impact on the industrial sector.
In addition to the direct impact from associated warehouse space requirements, increased e-commerce trade is likely to lead into increased investment in areas such as automation. Strong rental growth was recorded across Sydney's industrial market, boosted by robust tenant demand and a scarcity of larger available facilities.
Transaction volumes remain in line with long-term averages but constrained by lack of prime-grade assets. Sales activity is expected to be driven by transactions of secondary assets and value-add opportunities over the next 12 months. According to the September 2017 Situs RERC/UPA survey results, the average unlevered yield for prime Sydney industrial assets is 5.75 percent with an average IRR of 8.0 percent.
Retail Market
A strong NSW economy continues to provide a positive environment for retail spending growth. NSW retail sales increased by 3.7 percent over the 12 months to July 2017, above the growth of 3.5 percent recorded the preceding year.
Tourism has also bolstered retail trade with 12.8 million domestic and international tourists visiting Sydney.
The number of tourists to Sydney, led by mainland Chinese visitors who accounted for 18 percent of all tourists, has resulted in international and domestic luxury brands continuing to roll out stores across NSW. Solid population growth of NSW has underpinned strong retail sales in supermarkets (5.6 percent increase over the 12 months to July 2017) and furniture (8.1 percent increase). In contrast, department stores was the only retail category to record a decline in sales (-1.8 percent) with soft growth also recorded in clothing and footwear (1.1 percent). NSW accounted for the greatest share of retail transactions across Australia in the 12 months to 2017 with $2.4 billion sales recorded, albeit slightly lower than $2.5 billion transacted in 2015/16.
The September 2017 Situs RERC/UPA survey results reveal that the average unlevered yield for Sydney Super & Major Regional Shopping Centre assets is 5.25 percent with an average IRR of 8.00 percent. Sales of large format retail centres in NSW totalled $600 million, accounting for 25 percent of all NSW retail transactions in the year to July 2017. Survey responses from the September 2017 Situs RERC/UPA survey reveal that the average unlevered yield for prime Sydney large format retail assets is 6.30 percent with an average IRR of 8.43 percent.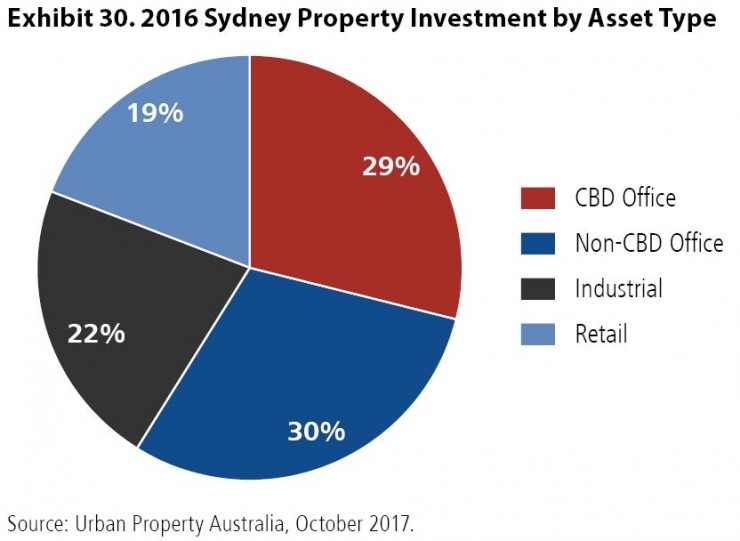 Exhibit 30