Sydney Economy & Property Market – December 2018
December 12th 2018 | UPA, Urban Property Australia
NSW economy is expected to moderate from 2019 as infrastructure spending eases.
Sydney CBD prime office rents are now 30% higher than 2016 levels.
NSW is set for a record year for retail property transactions in 2018.
Economy
The New South Wales (NSW) economy grew by 3.7% in the year to September 2018, up from 3.0% a year earlier. Having peaked in 2015/16, the NSW economy continues to ease impacted by the falling prices of its housing market. Households in Sydney are the most highly leveraged and therefore the most susceptible to the tightening lending standards.
Over 2018, house prices in Sydney have fallen more than any other Australian city, declining by 12%. Over 2018/19, construction and its supporting services industries underpinned the economy, reflecting the ongoing public infrastructure investment. Infrastructure work in NSW remains solid due to an extensive program of mainly road and rail projects, however the state budget forecasts that 2018/19 will be the peak year of infrastructure spending.
Looking forward, the NSW economy is expected to continue to moderate as housing construction and infrastructure spending eases.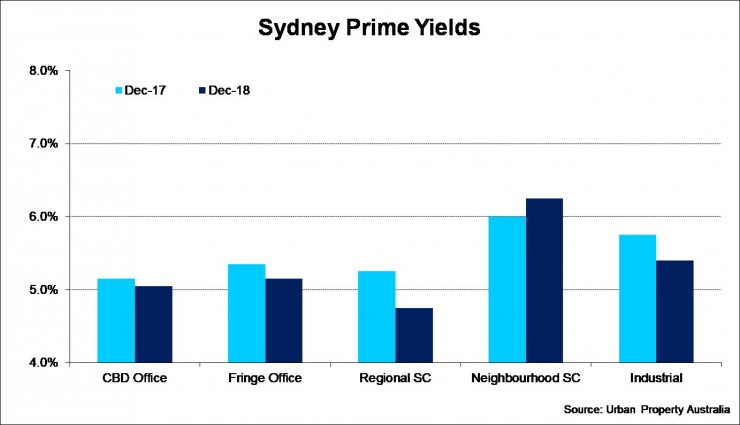 Sydney Prime Yields
Office Market
10-year vacancy lows continued to fuel Sydney CBD office rents over 2018. For the third successive year, Urban Property Australia has recorded double digit rental growth in Sydney CBD prime office rents, to now be 30% higher than 2016 levels. Along with the traditional occupiers of the Sydney CBD office market, technology companies and coworking providers have driven the take-up of office space in the Sydney CBD over 2018. The overall vacancy rate saw a modest decline from 4.8% to 4.6% in the six months to July 2018, well below the 10-year average of 7.3%. By grade, the prime vacancy rate declined from 4.9% to 4.8%, whilst secondary dropped from 4.6% to 4.4%. Looking forward, the overall vacancy rate in the CBD is expected to trend below 3.0% by mid-2020 before rising as the next supply commences. Outside of the CBD, NSW has five of the top eight markets with the lowest vacancy rates in Australia demonstrating the strong employment growth recorded across the state in recent years. NSW's infrastructure investment coupled with the increasing CBD office rents has seen occupiers increasingly consider other office markets.
Investment volumes in 2018 are on track to record the second highest annual volume ever, only behind 2015's volumes, fuelled by the sale of many core assets. Prime Sydney CBD offices now trade consistently below 5% with strong competition for trophy assets. In comparison, secondary yields have compressed more than prime yields over 2018 as investors seek to capitalise on refurbishment opportunities and the corresponding rental growth. Domestic institutions have acquired the bulk of assets traded in 2018, however investment activity from overseas investors remains solid having accounted for 25% of sales transactions. While the IRR for prime Sydney CBD office assets remain below the long-term average, it has remained stable at 6.75% over 2018.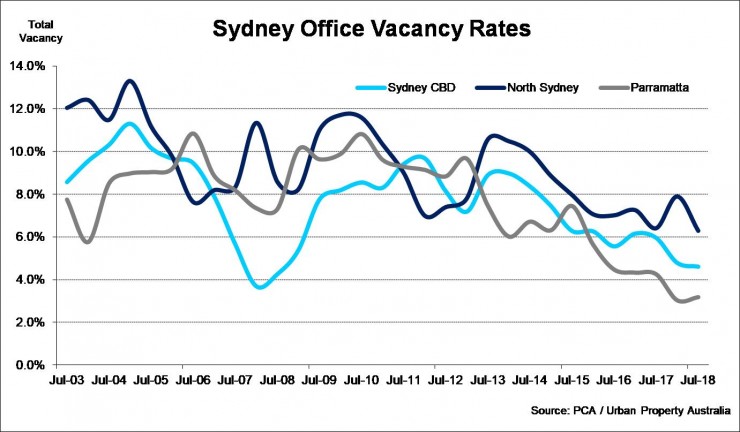 Sydney Office Vacancy Rates
Retail Market
Despite mixed sentiment in the Australian retail market, NSW is set for a record year for retail property transactions in 2018. Over 2018, Urban Property Australia recorded more than $4.5 billion of retail property transactions, 25% higher than the volume of retail assets sold last year and double the 10-year average of $2.1 billion.
NSW also accounted for the greatest share (46%) of retail transactions across Australia in 2018. The record year of transactions was boosted by the sale of several major regional shopping centres and CBD-based assets. In fact, over 2018 to date, Urban Property Australia recorded 13 assets selling in excess of $100 million.
Transactional activity in the sub-$25 million remains buoyant, accounting for the majority of retail property sales (by number) over 2018.
While yields compressed for Sydney CBD retail assets and regional shopping centres over 2018; impacted by the challenging retail conditions, yields for neighbourhood and large format centres have eased. Urban Property Australia estimates that yields for neighbourhood and large format centres have increased by 50 basis points over 2018.
NSW retail sales increased by 2.1% over 2018, slightly below the growth of 2.3% recorded over the preceding year. While food and clothing retail sales increased through the year, household hardware sales fell, reflecting the softening residential market.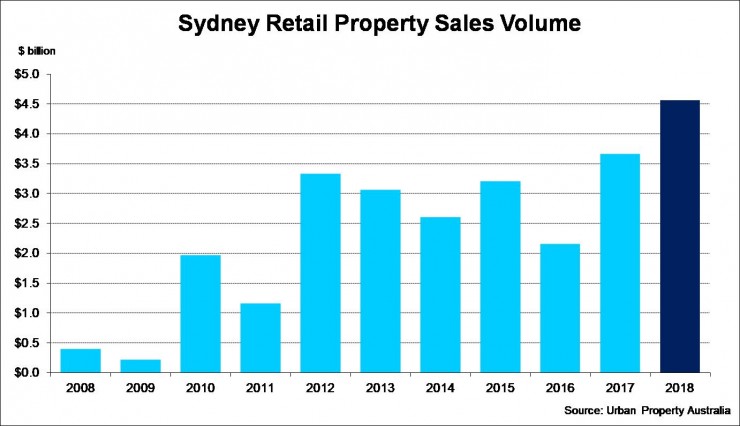 Sydney Retail Property Sales Volumes
Industrial Market
NSW's positive economic conditions coupled with the extensive infrastructure investment continue to drive the demand for industrial property from developers, investors and occupiers alike. The recent announcement of the Sydney Metro West project connecting the Sydney CBD and Parramatta with a future extension to Western Sydney Airport will be revolutionary for the Western Sydney industrial corridor.
The strong leasing conditions continue to be driven by logistics and e-commerce operators who have capitalised on the increase in online retail spending. In the 12 months to October 2018 Australians have spent over $28 billion online with this forecast to reach $40 billion annually by 2023. Despite the significant growth, Australia's online sales still only account for about 9% of total retail spending.
Against the backdrop of the strong fundamentals in the industrial property market, investor demand has remained particularly buoyant for Sydney industrial property. The strong flow of capital into the Sydney industrial sector has stemmed from a diverse range of investor types; including, local privates, property syndicates, institutional investors and offshore groups.
Over 2018, Urban Property Australia recorded more than $2.5 billion of Sydney industrial property transactions, 50% higher than the volume of industrial assets sold last year. NSW also accounted for the greatest share (43%) of industrial transactions across Australia in 2018.
This strong investor demand has resulted in yields continuing to compress, despite being already at all-time lows last year, UPA estimate average prime Sydney industrial yields at 5.25% as at December 2018.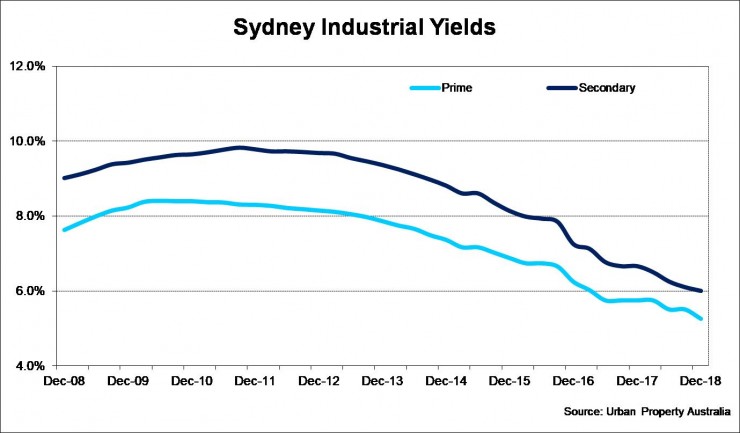 Sydney Industrial Yields
Copyright © 2018 by Urban Property Australia All rights reserved. No part of this publication may be reproduced in any form, by microfilm, xerography, electronically or otherwise, or incorporated into any information retrieval system, without the written permission of the copyright owner.