Q3 2019 – Victorian Economic Overview
October 22nd 2019 | UPA, Urban Property Australia
Victoria's economy grew by 0.5% in the June quarter and by 1.9% over the year, above the Australia's national growth but below the state's long-run average. The quarterly result reflected increases in public demand and household consumption. This was partly offset by falls in dwelling investment and private business investment.
Looking ahead, Victoria's economy is projected to lift to 2.6% in 2020 and 2.9% in 2021 as Victoria's nation-leading population growth continues to support the state economy.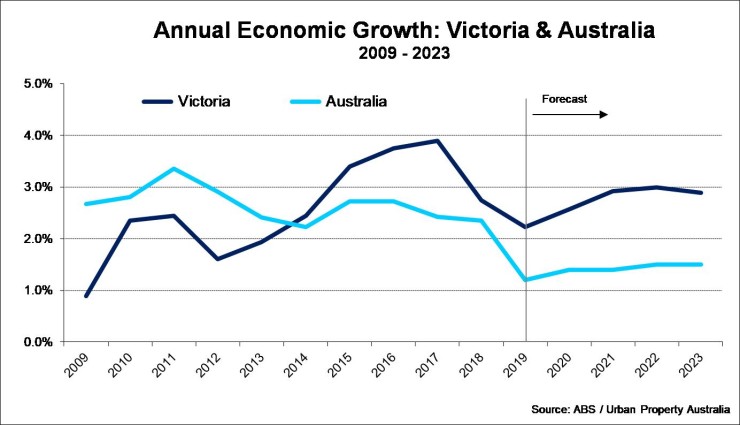 Annual Economic Growth _ Victoria & Australia
Victoria's population growth remains strong and the highest of the states. Over the year to the March quarter, Victoria's population grew by 2.1% to reach 6.57 million persons, above the national average growth rate of 1.6%. Net overseas migration made the largest contribution to the state's population growth, adding 86 700 persons over the year.
To support the population growth, the state government is investing in infrastructure. Government infrastructure investment is projected to average $10.6 billion a year over the next four years, more than double the average of $4.9 billion a year in the four years to 2014/15. Major projects include the $15.8 billion North East Link, $6.6 billion to remove an additional 25 level crossings, $3.4 billion to transform the suburban transport train network, and $5 billion to match the Federal funding the Tullamarine airport rail link.
In total, there is $30 billion worth of transport projects currently under construction in Victoria and a further $54 billion across various planning stages
Boosted by the state's population growth, businesses have also expanded. Victoria's labour market has been strong in recent years, with solid gains in employment, record rates of labour force participation and a declining unemployment rate. Employment rose by 3.1% over the year to September 2019, driven by full-time employment growth. The Victorian unemployment rate currently at 4.7% has remained below 5% for the past year. By industry, employment growth was particularly strong in the Professional Services, Education and the Wholesale sectors.
Labour market conditions are expected to remain solid, consistent with leading indicators of labour demand. Employment is forecast to rise by 1.5% in 2020 and 2021 before rising to 1.7% in 2022. The unemployment rate is expected to average 4.6% over the next three years.
Copyright © 2019 by Urban Property Australia All rights reserved. No part of this publication may be reproduced in any form, by microfilm, xerography, electronically or otherwise, or incorporated into any information retrieval system, without the written permission of the copyright owner.