Q3 2019 – Melbourne Office Market
October 22nd 2019 | UPA, Urban Property Australia
Metropolitan office vacancy rate has fallen to 20-year lows at 4.2%;
Underpinned by speculative development, new supply in the metropolitan office market is projected to surge to a record high in 2020;
Despite a marginal rise in vacancy, the Melbourne CBD office market holds the lowest CBD vacancy rate in Australia;
St Kilda Road office vacancy down to its lowest level since 2001.
Office Market Summary
Buoyed by Victoria's labour market, Melbourne's office markets are Australia's best performing office markets with the vacancy rates of the St Kilda Road and the metropolitan office markets down to 20-year lows and the CBD office vacancy rate down to 10-year depths. Spurred by these low vacancy rates, speculative development has risen with a record high of new supply projected for the metropolitan office market in 2020.
Tenant Demand
Total employment in Victoria has grown by 117,600 or 3.6% over the year to August 2019. Full-time employment has underpinned the growth of total employment in Victoria over the past two years, which has driven demand for office accommodation as tenants have required more space. This recent improvement in employment has seen the Victorian unemployment rate decline, having fallen to 4.9% as at August 2019, well below the unemployment rate of 6.1% as at August 2017.
According to the Australian Bureau of Statistics, over the year to August 2019, Victorian employment growth was led by expansion of the Professional Services sector with the Administrative/Support Services and Government sectors also increasing employment over the year.
With a dearth of new office supply in the City Fringe and Inner Eastern precincts, leasing activity has increased within the business parks of the Outer East. Tenants have been attracted to these business parks due to their affordability and vast array of on-site amenities. Reflecting the appeal of these developments has been the successful absorption of new speculatively launched offices in Salta's Nexus Corporate Park in Mulgrave and in Caribbean Park in Scoresby.
Looking forward, employment is forecast to grow by 1.5% in 2020, before picking up to 1.8% over 2023. With employment projected to continue to expand, Victoria's unemployment is forecast to fall to 4.3% in 2024, levels not witnessed since 2008. Over the next five years, employment across the Melbourne metropolitan area is projected to be underpinned by the Professional Services, Finance and Health sectors.
New Supply
Spurred by the vacancy levels of the CBD, City Fringe and Inner East all below 4%, developers have responded by launching new office projects, many of which are being speculatively developed. Within the City Fringe precinct alone, there is 110,000sqm across 10 office buildings currently under construction. In addition to the stock under construction in the City Fringe, South Yarra has seen a surge of development recently with more than 100,000sqm of new supply now scheduled for completion by 2023. Whilst not traditional regions for office space, Urban Property Australia has also recorded an increase in development in the North (such as Bundoora) and West (Williams Landing) as tenants and developers seek to capitalise on the strong population growth in these areas.
Vacancy & Rents
Buoyed by Melbourne's labour market (which has grown by 450,000 over the past five years), the vacancy rate of the Melbourne metropolitan office market has fallen to its lowest level in 20 years. As at September 2019, vacancy fell to 4.2%, with falls recorded across most metropolitan sub-regions. The City Fringe precinct remains the tightest office market in Melbourne (including the major markets of the CBD and St Kilda Road) with a vacancy rate of only 2.5%, its lowest rate recorded. Vacancy rates of all other metropolitan office sub-regions also sit below their respective 10-year average levels, reflecting the constrained level of new office supply delivered to the metropolitan office market since 2015. With the vacancy rate continuing to decline, prime metropolitan office rents increased, rising at the strongest annual rate in 10 years. Prime rents have once again reached all-time highs for the City Fringe and Inner East sub-markets as at September 2019. Looking ahead though, with average prime metropolitan office rents having increased by 25% over the past three years, Urban Property Australia expects that rents will stabilise from 2020 reflecting the wave of new supply.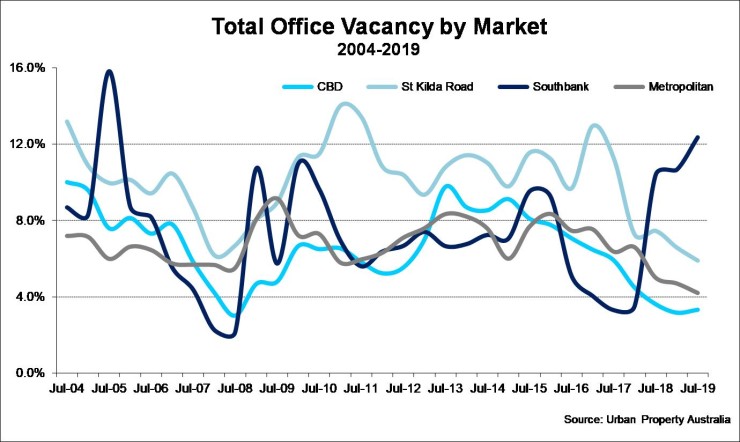 Total Office Vacancy By Market
Sales Activity
Urban Property Australia has recorded $630 million of Melbourne metropolitan office sales in 2019 to date, 35% down on levels recorded over the same period last year. Although the volume of metropolitan office sales has decreased, the decline in sales activity reflects the limited investment opportunities rather than diminished investor appetite with the number of properties available significantly lower than assets offered in 2018. Analysis of the transactional activity in the Melbourne metropolitan office market in years reveals that 2018 transactional volume was boosted by a number of large sales (in excess of $50 million), whereas in 2019 to date, there has only been two assets selling above $50 million. In contrast, transactions below $10 million have accounted for 52% of the number of offices sold across the Melbourne metropolitan office market. With limited investment opportunities for good quality metropolitan office assets, prime yields continued to compress over the year. While average prime yields have declined to 5.6% as at September 2019, Urban Property Australia has recorded a number of assets transacting below 5.5% in the Melbourne metropolitan office market in 2019.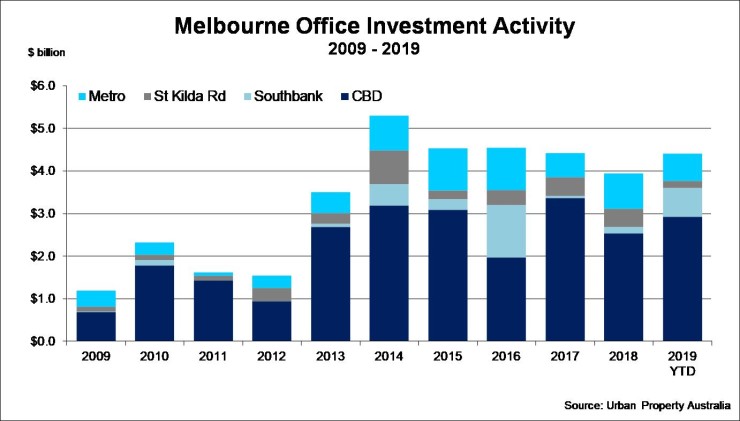 Melbourne Office Investment Activity
CBD, St Kilda Road & Southbank office markets
Despite a marginal rise in vacancy, the Melbourne CBD office market holds the lowest CBD vacancy rate in Australia as at July 2019 at 3.3%. Buoyed by holding the lowest vacancy rate, Melbourne also has the highest level of new supply currently under construction of all Australian office markets. While over the next three years 450,000 square metres is scheduled for completion around 90% is already pre-committed. The strong pipeline of developments under construction and in various stages of planning is likely to result in the Melbourne CBD surpassing Sydney CBD as Australia's largest CBD office market by 2025. Although only 8,000 sqm of tenant demand was recorded in the Melbourne CBD office market over the six months to July 2019, the relatively low level of tenant demand reflects the tight vacancy environment rather than a diminishing appetite of occupiers to expand. Despite the lack of new supply delivered to the market and low vacancy, average incentives remain high at 27% with rental growth driven by an increase in face rents. Overall prime net face Melbourne CBD office rents have increased by 5% over the year to July 2019. While CBD sales volume is on track to achieve the highest on record with Urban Property Australia recording $3 billion of transactions, much of the volume is as a result of two transactions with actual number of on market opportunities sparse.
Outside of the CBD, the vacancy rate of the St Kilda Road office market fell to 5.9%, its lowest level since January 2001. St Kilda Road's office vacancy rate has steadily declined over the past two years supported by sustained tenant demand and the consistent withdrawal of office buildings for residential development. Interestingly, as demand for office space along St Kilda Road has intensified coupled with the residential market weakening a number of residential developers are exploring the potential of office developments. This was highlighted by the recent transaction of 424-426 St Kilda Road which included an approved permit for an 18-level mixed-use building, however the new owner plans for the property to be refurbished and re-leased as an office asset. In contrast, the vacancy rate of the Southbank office market has continued to rise, having increased to 12.4% as at July 2019, its highest level since 2005, albeit the precinct's vacancy has been inflated by one building – 12 Riverside Quay which is wholly vacant.
Copyright © 2019 by Urban Property Australia All rights reserved. No part of this publication may be reproduced in any form, by microfilm, xerography, electronically or otherwise, or incorporated into any information retrieval system, without the written permission of the copyright owner.