Q1 2019 – Melbourne Office Market
April 10th 2019 | UPA, Urban Property Australia
Metropolitan office vacancy rate has fallen to its lowest rate since 2007;
Rents have reached all-time highs for the City Fringe and Inner East sub-markets;
Melbourne remains Australia's tightest CBD office market with its vacancy rate at 3.2%;
St Kilda Road office vacancy down to its lowest level since 2008.
Victoria's office markets are Australia's best performing office markets with most vacancy rates at 10-year lows. The vacancy rate of the Melbourne CBD is the lowest of all Australian CBDs while the St Kilda Road and City Fringe precincts continue to attract investor demand buoyed by the robust rental growth.
Tenant Demand
Total employment in Victoria has grown by 136,000 or 4.2% over the year to February 2019. Full-time employment has underpinned the growth of total employment in Victoria over the past two years, which has driven demand for office accommodation as tenants have required more space. This recent improvement in employment has seen the Victorian unemployment rate fall to 4.8% as at February 2019 – approaching 10-year lows.
According to the Australian Bureau of Statistics, over the year to February 2019, Victorian white-collar employment growth was led by expansion of the Government sector with the IT and Finance sectors also increasing employment over the year.
Tenants continue to seek opportunities in the City Fringe office precinct endeavouring to attract and retain the best employees in the tight labour market. Tenants who have recently relocated closer to the CBD include: 7-Eleven from Glen Waverley to Richmond with MYOB and Reece pre-committing to new offices currently under construction. Additionally, coworking groups continue to expand with The Commons launching a new office in 2019 in Cremorne.
Looking forward, employment is forecast to grow by 2.6% in 2019, driving Victoria's unemployment rate to decade-low rates of 4.3%. Over the next five years, white-collar employment across the Melbourne metropolitan area is projected to be underpinned by the Professional Services, Finance and Health sectors.
Sales Activity
Investment activity in the Melbourne metropolitan office market has been relatively constrained in 2019 to date with $32 million transacted in the first quarter. Having recorded the third highest level on record in 2018 with approximately $825 million transacted across the metropolitan market, the decline of transactional volume in 2019 reflects a lack of assets on offer rather than a lack of investor appetite. In contrast, potential vendors are preferring to hold onto their assets to benefit from strong rental returns and capital growth. With vacancy exceptionally tight in the City Fringe precinct and prime yields in the CBD office market below previous historic lows investors are pursuing opportunities to capitalise on the strong tenant demand. Increasing competition for quality assets caused prime yields in the metropolitan office market to marginally compress over the 12 months to January 2019 to now average 5.75%.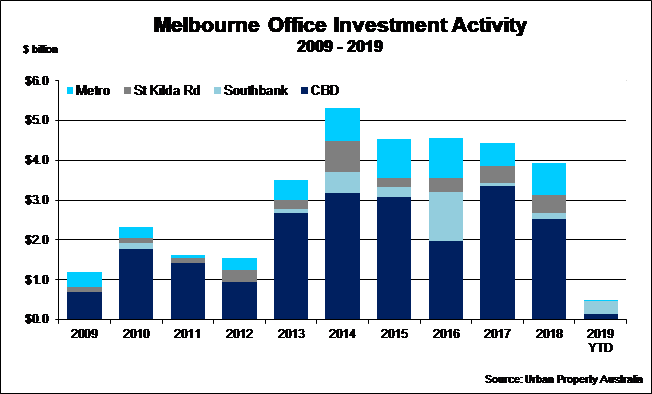 Melbourne Office Investment Activity
New Supply
With vacancy levels of many of Melbourne's office markets down to 10-year lows, a number of projects have been speculatively developed. New office buildings which have been developed speculatively include: 588 Swan Street, Richmond (7,000sqm), 68 Clarke Street, South Melbourne (10,000sqm) and 600 Church Street, Richmond – all located in the City Fringe precinct. In fact, between 2019 and 2021, Urban Property Australia Research forecasts 150,000sqm to be completed in the City Fringe office market alone. Although vacancy levels are below 5%, the level of speculatively developed stock currently under construction represents a risk for the precinct.
Vacancy & Rents
Mirroring Melbourne's steady decreasing unemployment rate, total vacancy in the Melbourne metropolitan office market has also continued to fall. As at January 2019, vacancy fell to 4.7% as at July 2018 – its lowest rate since 2007. Vacancy fell across most metropolitan sub-regions with the City Fringe precinct remaining the lowest of all sub-regions despite a slight increase in its vacancy rate to 3.0%. While there has been a resurgence of speculative developments, particularly in the City Fringe, across the Melbourne metropolitan office market new supply is relatively constrained which will support rental growth for the medium term as employment continues to expand. With total metropolitan office vacancy below its 10-year average, prime metropolitan office net face rents increased for an eighth consecutive year. Although rental growth across the sub-markets was led by the City Fringe, all sub-markets recorded rental growth over 2018. Rents have reached all-time highs for the City Fringe and Inner East sub-markets as at January 2019.
CBD, St Kilda Road & Southbank Office Markets
Melbourne remains Australia's tightest CBD office market with its vacancy rate having declined to 3.2%, its lowest level since July 2008. Along with Melbourne, Sydney's CBD office vacancy rate is at 11-year low levels at 4.1%. Despite the Melbourne CBD office markets at decade-low vacancy rates, vacancy is forecast to decline further through 2019 with the vast majority of new space coming online this year already pre-committed. The CBD office market recorded 135,200 square metres of net absorption over 2018, more than any other Australian office market, and was the 16th consecutive calendar year of positive net tenant demand. As a result of vacancy falling to its lowest rate in 10 years, prime CBD effective rents have reached unprecedented levels, growing 17% over 2018. Melbourne's unrivalled population and economic growth is such that CBD office market is projected to account for 50% of new office space forecast across Australian CBD markets over the next three years. While CBD office investment volume declined in 2018 in comparison to the preceding year, transactional volume levels remained above the 10-year average with purchaser appetite strong for CBD assets.
Outside of the CBD, the vacancy rate of the St Kilda Road office market fell to 6.6%, its lowest level since January 2008. St Kilda Road's office vacancy rate has steadily declined over the past two years supported by sustained tenant demand and the consistent withdrawal of office buildings for residential development. In contrast, the vacancy rate of the Southbank office market has spiked up over 2018, adversely impacted by refurbished space coming back to the market. Given the strong fundamentals of the St Kilda Road and Southbank office markets, both markets continue to receive high levels of interest from both domestic and offshore investors which has driven yields to all-time lows. Assets in the St Kilda Road office market in particular have been competitively sought after, with transactional volume of 2018, the third highest on record with yields recorded below 5%.
A-Grade Office Yields by Market
Copyright © 2019 by Urban Property Australia All rights reserved. No part of this publication may be reproduced in any form, by microfilm, xerography, electronically or otherwise, or incorporated into any information retrieval system, without the written permission of the copyright owner.