Q1 2019 – Australian Economic Overview
April 10th 2019 | UPA, Urban Property Australia
Australia's economy slowed again in the December 2018 quarter, growing by only 0.2% over the quarter. Over 2018, Australia's economy grew by 2.3%, the softest annual growth since June 2017. In fact, without population growth — a hypothetical scenario — the Australian economy would have fallen into recession. Household spending remained weak, reflecting the continued slow growth in wages. Given the recent declines in the housing market and the outlook for household consumption growth, downward revisions have been made to GDP projections.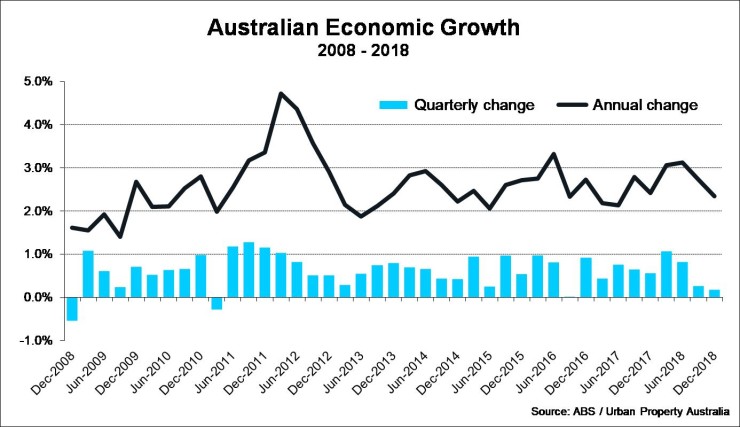 Australian Economic Growth
While accommodative monetary policy and labour market conditions are expected to provide ongoing support, Australia's economy is forecast to grow by 3% this year (down from 3.25% as previously projected) and 2.75% over 2020 (down from 3% previously projected).
Amid this slowdown in the domestic economy, the consumer confidence index has now fallen into pessimistic territory, and its lowest level since September 2017. With consumers increasingly cautious, retail sales volumes have also been impacted having increased by just 0.1% in the December 2018 quarter.
In contrast to the slowdown in GDP growth, conditions in the labour market continue to improve. The national unemployment rate has fallen to 4.9% as at February 2019, a 10-year low with the NSW unemployment rate at 3.9% a record low. Australia's employment growth remains robust, rising by 284,000 over the year to February 2019 – 51% above the 10-year annual average. Total Australian employment has reached record levels with one million new jobs created in the past two years.
Despite unemployment falling below 5%, leading indicators such as job advertisements suggest continued job growth with Australian job vacancies rising to a record high in the three months to February 2019. By state and territory, job vacancies in NSW, Victoria and Western Australia all increased during the quarter, lifting by 1.7%, 2.3% and 2.4% respectively.
Dwelling investment is likely to have reached its peak for this cycle and is projected to decline over coming years. The pipeline of work to be done on higher-density housing remains very large, which should continue to support activity in the near term. However, higher-density building approvals have been trending lower for around a year, and are expected to decline further over 2019, suggesting a much lower level of activity once the current pipeline of work is completed. With significant falls in pre-sales for new apartments over the past year, coupled with difficulty for some developers obtaining financing, apartment development is forecast to decline significantly from 2020, broadly consistent with the decline in building approvals over the past year.
Having fallen in the previous three quarters, Australian business investment rose strongly in the December 2018 quarter, rising 2% over the year. Looking ahead, business investment is projected to increase by 4% over the next year with strength in commodity prices underpinning the mining sector.
Infrastructure spending is also expected to support the Australia economy with transport spending is projected to increase by 80% over the five years to 2021.Public spending on roads, railways and ports will lift annual infrastructure spending to $38 billion in 2021.
Domestic financial conditions remain accommodative for households and businesses alike. The RBA kept its cash rate unchanged at 1.5% at the April 2019 monetary policy meeting, maintaining the status quo that's been in place since August 2016. Financial market prices suggest that the cash rate will be lowered later this year reflecting the slowing economy with inflation below the target rate.
With the exception of Northern Territory and Western Australia, all Australian states and territories recoded growth in state final demand over 2018 with most also above their respective 10-year averages. Victoria recorded the greatest growth, up 5.2% followed by Tasmania up 5.1% and ACT (5.0%). NSW's economy recorded growth of 2.6%, its lowest growth rate since mid-2017 impacted by slowing population growth and the peak of the infrastructure spending.
Copyright © 2019 by Urban Property Australia All rights reserved. No part of this publication may be reproduced in any form, by microfilm, xerography, electronically or otherwise, or incorporated into any information retrieval system, without the written permission of the copyright owner.