Melbourne Retail Market 2015
January 22nd 2015 | UPA, Urban Property Australia
Strips struggle, CBD gathers momentum; as international brands flock to Melbourne seeking new markets. The challenge is now over to suburban shopping centre owners to ensure that their product provides an experience rather than just a place where goods are sold to compete in a global marketplace.
Retail Trade
Since its peak in March 2013, the Australian dollar has depreciated by 27% to reach $0.82 in January 2015 and is expected to fall further. The softening of the $AUD over the past two years has had a positive impact on the traditional "bricks and mortar" retailing with demand for home-grown products rising modestly.
In the 12 months to November 2014, retail trade in Australia totalled $279.3 billion, growing by 5.5%. Online retail sales contributed $16.3 billion to the total retail trade. During the same period, retail turnover in Victoria grew by 6.2%, up from 1.2% recorded in the preceding 12 months. In the 12 months to November 2014, retail trade in Victoria totalled $69.27 billion, up from $65.21 billion in the previous year.
In this period, all sectors recorded a positive growth, with the exception of clothing & footwear sector (-0.5%). Food retail sales grew by 7.5%, while sale in cafés & restaurants rose to 9.9% from 1.2% a year ago. Though overall consumer spending increased, discretionary spending remains volatile.
Retail Strip Market
Vacancy across Melbourne's prime retail strips continued to rise over 2014, to reach 10-year high of 8%. Bridge Road, Richmond recorded the highest vacancy of 20% up from 15% a year prior. Bridge Road in particular has been impacted by soft retail conditions and by the emergence of outlet centres. However, the world renowned Chapel Street, South Yarra saw its vacancy also increase to 10-year highs with Oroton, Wayne Cooper and Christopher Chronis high name departures vacating the strip.
Impacted by the increase in vacancies and subdued retail trade conditions, rents have eased along many of the prominent strips. Looking ahead, given the high levels of residential development surrounding many of the prime retail suburban strips, local population levels will rise which should result in increased levels of foot traffic boosting local retail trade and attract new tenants.
Despite the clouded consumer and business confidence, demand for solid investments within prime locations remains competitive with strip shops holding (and increasing) their value.
CBD Retail Market
Despite more than 43,000 square metres added to the CBD retail market in the past two years, Melbourne's CBD retail vacancy rate fell from 4% to 3% in 2014. With the opening of the 'Emporium', and the refurbished Melbourne's GPO many international retailers such as Japan's Uniqlo, US retailer Kate Spade New York and Swedish retailer H&M made their first entry into Australia.
Tenant demand for CBD retail space was also boosted by the growing population of the inner city precinct. The City of Melbourne has been the nation's fastest growing statistical division by recording a population increase of 10.5% in the year to June 2013 period and is likely to continue this trend in medium term. Melbourne CBD's retail market continues to remain dominated by clothing and footwear stores followed by food retailers.
The influx of international retailers has also sustained Melbourne's CBD retail rents during the past year, particularly for properties offering street frontage or those in prime CBD locations.
Sales Activity
While retail transactions in Victoria surpassed $1.3 billion for a second consecutive year, there remains a mismatch between investment demand and supply. Competition for quality retail assets is likely to remain strong in 2015, with the volume of capital seeking placement in the retail sector exceeding stock available.
Due to this lack of suitable investment opportunities and pent-up capital, investors are increasingly willing to move up the risk curve, with improved demand for assets with a higher element of risk. This will see yields firm for all retail property categories, although the degree of firming will vary somewhat between each sector.
The largest sale for 2014 was GPT Wholesale Shopping Centre Fund's acquisition of a 50% stake in the Northland Shopping Centre for $496 million from the Canada Pension Plan Investment Board in March. The transaction was part of the agreement struck between GPT and DEXUS, in the takeover of the Commonwealth Property Office Fund. Northland Shopping Centre, a Super Regional centre comprises a gross lettable retail area of 92,380 square metres and has the 6th highest moving annual turnover among retail centres in Melbourne.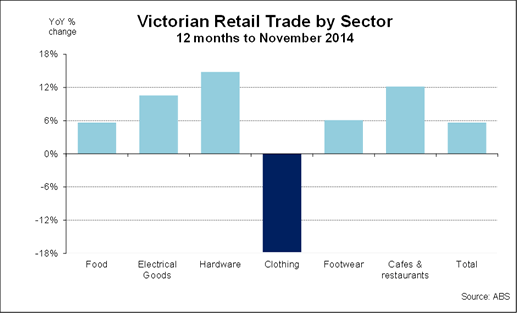 2015-vic-retail trade by sector