Melbourne Office Market – August 2016
August 11th 2016 | Urban Property Australia, UPA
Reflecting the Australian economy, currently there is a major divergence of performance between the cities, with vacancies in Sydney and Melbourne falling and Perth reaching 20-year highs.
Sales Activity
Office investment sales activity in the Melbourne metropolitan office market over 2015/16 totalled $920 million, its second highest level on record.
Offshore investors were the most prominent purchasers in the metropolitan office market accounting for almost half of the total sales having becoming increasingly accustomed with the market. While most purchasers were focused on pure investment opportunities, increasingly offshore groups and local developers are purchasing assets for residential conversion purposes. 820 Whitehorse Rd, Box Hill ($18.2 million) and 221 Pelham, Carlton ($18.0 million) were amongst a number of metropolitan offices recently purchased in 2015/16 which are earmarked for residential development.
CBD, St Kilda Road & Southbank office markets
Melbourne continues to host the second lowest vacancy rate amongst all of Australia's CBDs. While Sydney is leading the office recovery, Melbourne's CBD office vacancy fell to 7.0%, its lowest rate in three years. While demand for Melbourne CBD office space was a third of the long term average, for the first time on record no new stock was delivered to the CBD office market. With new supply in the medium term expected to be well below average levels the Melbourne CBD office vacancy rate is forecast to remain relatively constrained, leading to strong rental growth.
Since 2014, Sydney and Melbourne have firmly cemented their positions as global cities in the context of office investment capital. On purely financial metrics, Sydney and Melbourne still provide a significant yield premium when benchmarked against other major cities. With Melbourne CBD office prime yields sitting around 5.5%, compared to those of New York 4.6% and Hong Kong of 4.1%, this spread is expected to continue to result in yields compressing further with interest remaining robust. Investment interest in the Melbourne CBD remained strong in 2015/16, with sales volumes achieving the highest annual level on record. Office investment sales activity in 2015/16 within the Melbourne CBD totalled $3.1 billion, almost double the 10-year CBD sales annual volume average.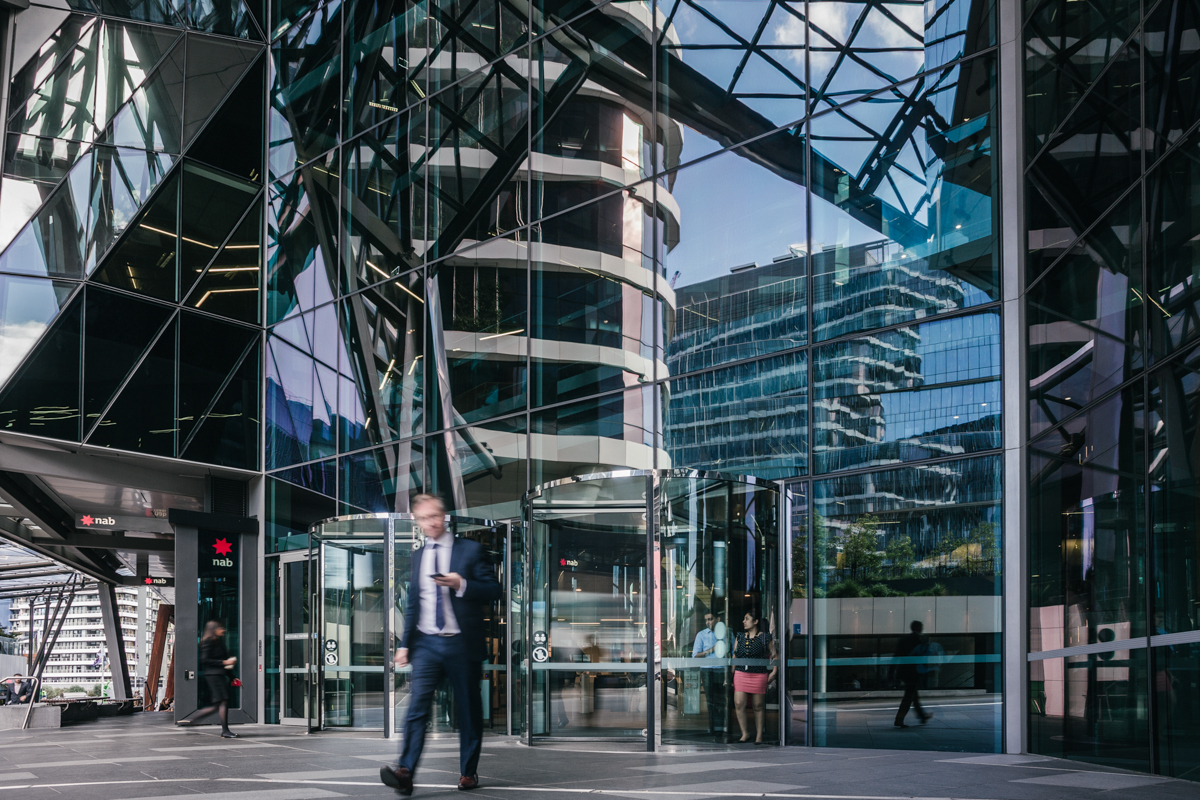 Collins Street, Melbourne
In the St Kilda Road office market, total vacancy improved from 9.3% to 7.3% over the 12 months to July 2016 due to 31,460sqm of office buildings withdrawal for residential redevelopment. Office stock in the precinct has now shrunk by 20% from its peak in 1992.
In the Southbank office market, vacancy rate halved from 9.1% to 4.6% in the year to July 2016 due to 13,589sqm of withdrawals, its highest level of annual withdrawals on record. In terms of new office supply, Mirvac and ISPT's jointly owned 21,000sqm development at 2 Riverside Quay, Southbank is scheduled for completion later this year having been pre-committed by PwC.
Tenant Demand
As at June 2016, Australia's unemployment rate marginally rose to 5.8% from 5.7% a month earlier but still below the recent peak of 6.2%.
Total employment has now grown 225,000 or 1.9% over the year to June 2016. Importantly full-time employment increased by 90,600 over the year with part-time employment rising by 134,100, which should lead to increased demand for office accommodation.
By state, employment growth in June was concentrated in Victoria with 24,000 new jobs, and South Australia, 4,600 jobs. More broadly, employment strength is evident in the south-eastern states of NSW, 3.2% growth in the year to the June 2016, and Victoria, 3.4%, which are benefitting most from lower rates and a lower dollar. There is emerging weakness in the mining states of WA with employment falling by 0.6% over the year and employment in Queensland only recording annual growth of 0.3%.
According to the Australian Bureau of Statistics, over the year to May 2016, Victorian employment growth was largely driven by the health care, construction and retail trade sectors. In terms of traditional white collar employment sectors, employment levels continues to be mixed with the finance sector growing, while employment in the professional services and public services sectors contracted over the 12 months to May 2016.
Looking ahead, the labour market will likely regain momentum over the second half of this year, consistent with positive fundamentals. With low interest rates driving a home building boom and the lower dollar boosting labour intensive service sectors, such as education and tourism, the prospect for solid employment gains near-term is positive.
White collar employment growth is forecast to continue to gather momentum across Victoria with employment in the suburbs projected to increase at a faster rate than both the CBD and St Kilda Road office markets, which should result in office space demand increasing with tenants' preference for space closer to the CBD with good amenity.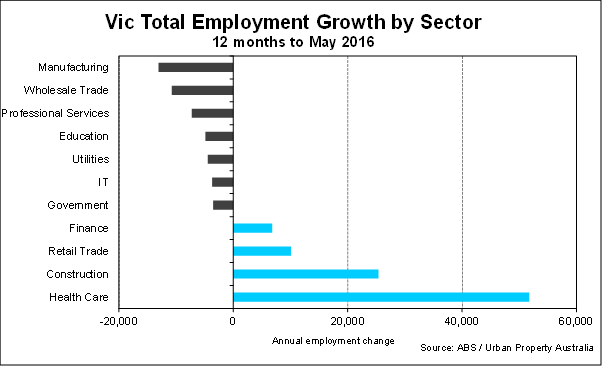 Vic Total Employment Growth by Sector
New Supply
Having recorded its highest level of new supply since 2009 in 2015, the pipeline is more constrained with new supply levels forecast to fall below the historical average with 40,000sqm expected to be delivered this year. Mazda's office in the Mulgrave Office Park was recently completed while Repco's office at Stamford Business Estate and the speculatively developed office at the Chadstone shopping centre are both nearing completion. New supply is further constrained with the increasing level of suburban office stock being permanently withdrawn for a change of use, particularly for residential development. The largest building withdrawn over the past year was 850 Whitehorse Road, Box Hill (7,345sqm) by the Asian Pacific Group. Over the short to medium term, the level of suburban office market withdrawals is anticipated to increase with 62,316sqm earmarked for potential conversion.
Vacancy & Rents
While tenant demand for metropolitan office market remained positive, vacancy rates rose impacted by high levels of speculatively built new supply delivered to the market over the past 12 months. Total metropolitan office vacancy rose to 8%, its highest level in 10 years. Despite total vacancy having risen, A-grade metropolitan office net face rents increased at the fastest rate in six years. A-grade metropolitan rental growth was underpinned by five-year high rental growth in the Inner Fringe precinct which has been aided by the rapid tightening of the CBD, St Kilda Road and Southbank office markets.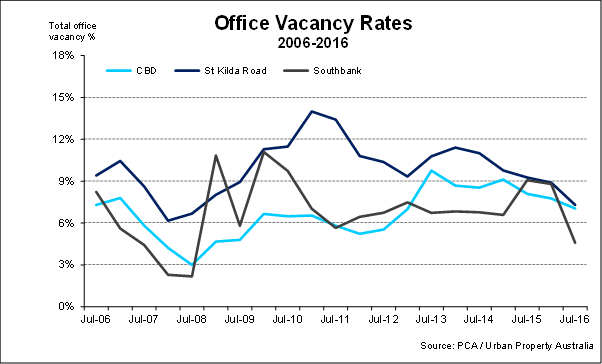 Office Vacancy Rates