Melbourne Economy & Property Market – December 2018
December 12th 2018 | UPA, Urban Property Australia
Given the recent Labor re-election, infrastructure spending is projected to increase further.
Melbourne CBD office market, the tightest CBD office market in Australia.
Melbourne industrial land values up 60% over 2018, driven by strong take up of land.
Economy
The Victorian economy outperformed all other major Australian states in the year to September 2018, growing by 4.3%. The Victorian economy was driven by the Health Care and Construction sectors, reflecting the consistent public investment in health across State Governments and continual growth in dwelling construction and public infrastructure investment.
Following the recent Labor re-election, infrastructure spending is projected to increase further across the state. In addition to the Metro Tunnel, new projects to be launched following the election result include: the North East Link, a new hospital in Footscray and a rail link to the Melbourne Airport.
A sustained migration-led surge in population continues to be the main underlying driver of Victoria's economy. Over the past year, Victoria's population grew by 137,000, the highest of all states. A key driver of the strong population growth has been the increase in the number of overseas students coming to study in Melbourne, boosted by the fall in the Australian dollar.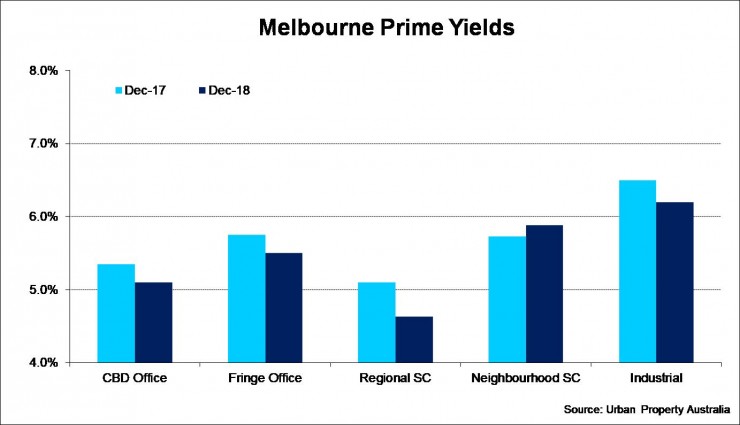 Melbourne Prime Yields
Office Market
Despite the lack of new supply, sustained tenant demand has resulted in the Melbourne CBD office vacancy rate falling to become the tightest CBD office market in Australia. Over the six months to July 2018, the vacancy rate of the Melbourne CBD office market decreased to 3.6%, down from 4.5% in January 2018.
Reflecting Victoria's strong employment growth; the Melbourne CBD recorded the highest volume of tenant demand nationally in the six months to July 2018. In addition to tenants upgrading their office accommodation, the high level of absorption recorded in the Melbourne CBD office market has been driven by tenants relocating into the CBD as occupiers compete to attract employees. Robust tenant demand coupled with 10-year vacancy lows continues to support strong rental growth with prime rents recording annual increases of least 9% for the past three consecutive years. With a shortage of new supply expected to keep vacancy levels down until 2020, solid rental growth is forecast to continue in 2019.
Similar to Sydney, Melbourne's metropolitan office markets are also performing well with low vacancies and strong rental growth. The lack of large contiguous office space and strong tenant demand has resulted in a number of developers launching speculative development in the City Fringe with particular demand for office space in Richmond, Cremorne and South Melbourne.
Transactional volumes in both the Melbourne CBD and metropolitan office markets have fallen back to average levels in 2018. While Chinese investor activity has diminished impacted by the capital controls implemented by the Chinese Government; Malaysian, Singaporean investors remain keen for investment opportunities in Melbourne.
Although prime and secondary yields continued to compress over 2018, the pace of compression is slowly which suggests that the cycle is nearing its peak. Average IRR for prime Melbourne CBD office assets also declined over 2018, albeit marginally to 6.85%.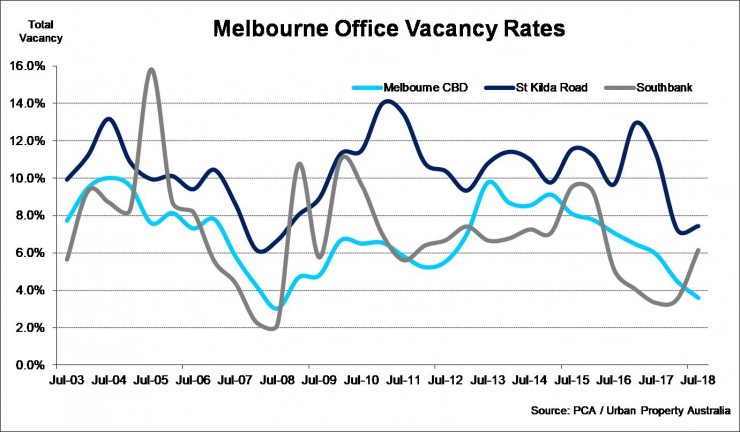 Melbourne Office Vacancy Rates
Retail Market
Underpinned by its nation-leading population growth, Victoria's retail sales turnover has grown by 6.4% this year, the highest rate across Australia. Retail trade growth was led by sales of clothing and footwear, which grew by 10.6% over the year and household goods retail trade (6.5%).
Retail transactional volume in Victoria is set for an all-time high in 2018 boosted by the sale of a 50% share in Werribee Plaza Shopping Centre for $651 million to QIC and 50% of Pacific Epping Shopping Centre, also to QIC, for $373 million. Domestic institutions dominated retail property acquisitions this year with offshore investors relatively inactive.
In contrast to other CBD retail markets, Melbourne's CBD retail vacancy has fallen over 2018 to 3% whereas vacancies in the Sydney and Brisbane CBD retail markets have increased to 3-year highs over the year.
Tenant demand for CBD retail remains strong supported by the growing residential population and record high tourist visitors.
Urban Property Australia estimate that yields for regional shopping centres have compressed by 50 basis points over 2018 to 4.75%. Yields for other Melbourne retail shopping centre types have remained relatively stable over 2018 however there is some upward pressure on neighbourhood shopping centres as institutions dispose of non-core assets.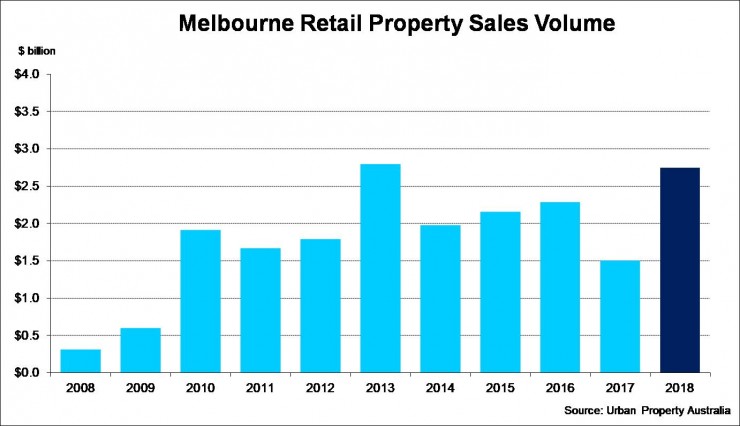 Melbourne Retail Property Sales Volume
Industrial Market
While the sales volume in 2018 remains above the 10-year average, Urban Property Australia has noted that the volume of industrial sales has trended down since the peak of 2015. Over 2018, $1.8 billion was transacted across the Melbourne industrial market, accounting for 32% of Australia's industrial transactional activity this year. Like the Sydney industrial market, investor demand remains intense for industrial property as the infrastructure pipeline in Victoria continues to grow. Transactional activity in the Melbourne industrial was supported by a diversity of investor types, from private investors, domestic syndicates, AREITs, overseas investors and increasingly, developers.
As a result of strong tenant demand and the subsequent take up of land, developers are becoming more active for development sites for future land banks. The shortage of industrial land has also resulted in a significant increase in land values with Urban Property Australia estimating the value of industrial lots smaller than 5,000sqm has increased by 60% over 2018.
Occupier demand for industrial space in Melbourne remains robust, illustrated by Melbourne's industrial vacancy rate falling to its lowest level in six years through 2018. The declining vacancies of the Melbourne industrial market coupled with rents growing has also sustained the compression of yields over 2018 with prime yields now declining to 6.25% as at December 2018.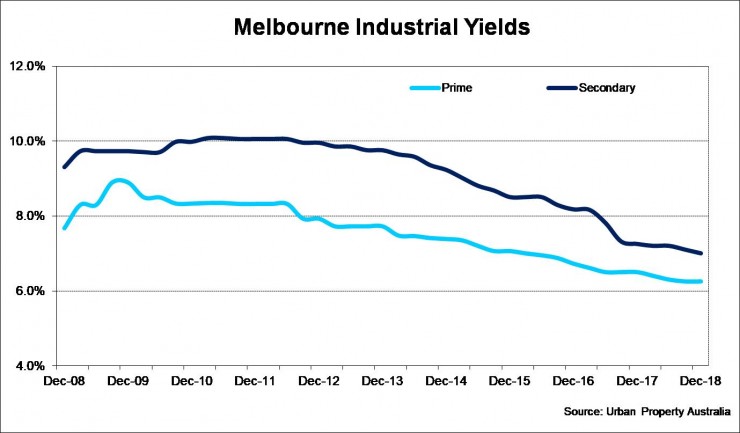 Melbourne Industrial Yields
Copyright © 2018 by Urban Property Australia All rights reserved. No part of this publication may be reproduced in any form, by microfilm, xerography, electronically or otherwise, or incorporated into any information retrieval system, without the written permission of the copyright owner.