May 2020 – Melbourne Industrial Market
May 13th 2020 | UPA, Urban Property Australia
Underpinned by strong pre-commitments, new supply for the Melbourne industrial market is forecast to reach its highest level of annual supply in 10 years in 2020,
As a result of secondary backfill stock entering the market, vacancy has marginally increased, however remains below the peak;
Industrial land values continue to increase as the result of solid take up of new estates across Melbourne's sub-regions;
Investment activity has been constrained in 2020 to date with owners increasingly holding assets given the outperformance of the sector in comparison to the retail and office sectors.
Industrial Market Summary
The boom in online shopping amid the coronavirus lockdown has underpinned demand and need for industrial property highlighted by the recent spate of consumer 'panic buying'. Consumer demand for online delivery is likely to continue in the current environment which will only drive quicker adoption fuelling the need for additional industrial accommodation in the medium term.
New Supply
Underpinned by high levels of pre-committed developments, Urban Property Australia forecasts that approximately 850,000sqm will be completed across the Melbourne industrial market in 2020, the highest annual supply over the past decade. In contrast to recent years, much of the new supply to be completed this year is already pre-committed to tenants, largely from the retail trade and logistics sectors. New supply scheduled for completion over 2020 is focused in the Western sub-region with the precinct accounting for 52% of the total new supply forecast to be delivered to Melbourne.
Although the COVID-19 pandemic has resulted in an increase in online purchasing habits, looking ahead, Urban Property Australia forecasts that new supply for the Melbourne industrial market will decline significantly in 2021 as developers' appetite to speculatively develop new industrial properties will be constrained and occupiers will be more cautious to leasing commitments in this uncertain time.
Sales Activity & Yields
Despite strong investor interest for Melbourne industrial property, sales activity in 2020 to date has been modest with only $250 million transacted. Should the trend of industrial property sales continue at the current pace, annual volume will be lowest year for industrial property turnover since 2013. Once again, the majority of sales were recorded in the West and North with domestic purchasers dominating acquisitions.
The tight supply of investment grade assets coupled with strong investor demand even in the COVID-19 environment has maintained Melbourne industrial yields at historical lows. Prime Melbourne industrial yields continue to range between 5.25% and 6.25%. Given the record low yields at present, further capital growth will be driven in the short term by income growth rather than significant further yield compression.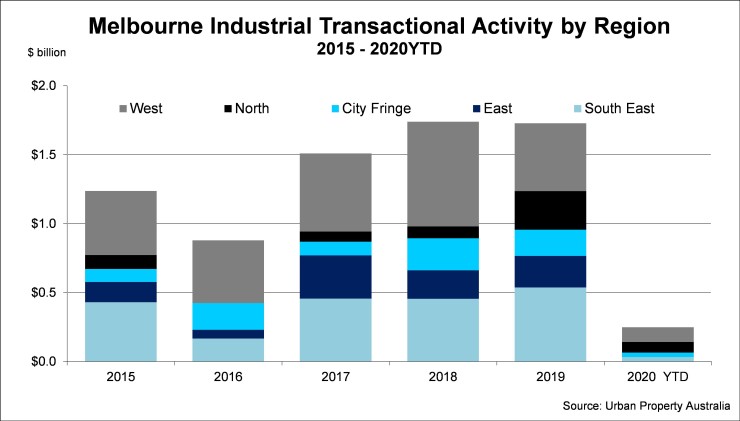 Melbourne Industrial Transactional Activity by Region
Tenant Demand & Rents
Leasing activity in the Melbourne industrial market has been healthy over the year to April 2020 with tenant take-up levels above average. Although below its peak, the amount of vacant industrial stock has increased over the year to January 2020, the increase in vacancy was predominately driven by secondary space vacated by tenants for prime industrial facilities. Urban Property Australia research revealed that logistic & transport companies accounted for 40% of all leasing activity over the year to April 2020 followed by retail trade occupiers (30%) and food & beverage manufacturers boosted by Melbourne's strong population growth.
Having recorded a number of years where rents grew at above average levels, over the year to April 2020, Melbourne prime industrial rents grew by 4% with secondary rents having increased by 2%, despite the increased available stock. Urban Property Australia projects that rents will remain steady across the Melbourne industrial market in 2020 with tenants reviewing their requirements in the wake of COVID-19.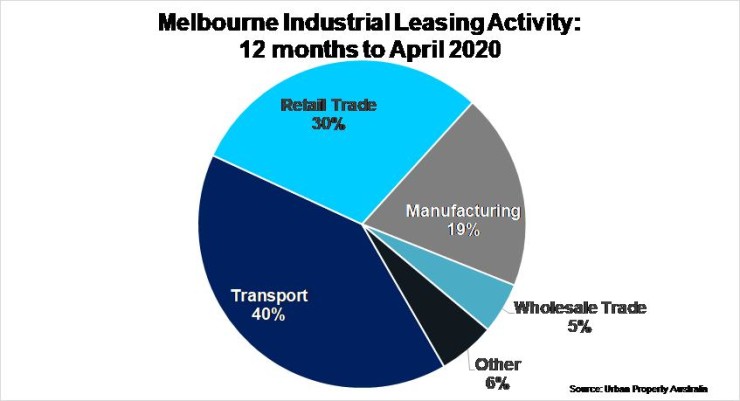 Melbourne Industrial Leasing Activity
Land Values
According to the Department of Environment, Land, Water and Planning there are 26,100 hectares of industrially zoned land across metropolitan Melbourne with 6,291 hectares of that vacant. Over the 17-year period between 2000/01 and 2017/18, there was a net increase of 4,251 hectares of land zoned for industrial use across metropolitan Melbourne.
Prior to the GFC, industrial land consumption across metropolitan Melbourne averaged 300 hectares per year. Following the GFC, consumption declined significantly, but began to increase from 2011/12. Over the last three years however, consumption of industrial land has increased to levels approaching those prior to the GFC. In 2018, 248 hectares of Melbourne industrial land was consumed, the fourth highest level in 11 years, reflecting the strong leasing activity.
Having grown solidly since 2017, Urban Property Australia recorded additional annual land value growth of 8% in the Western region, with the values increasing by 3% in the North and 5% in the South East over the year to March 2020.
Copyright © 2020 by Urban Property Australia All rights reserved. No part of this publication may be reproduced in any form, by microfilm, xerography, electronically or otherwise, or incorporated into any information retrieval system, without the written permission of the copyright owner.