May 2020 – Australian Economic Outlook
May 13th 2020 | UPA, Urban Property Australia
The outlook for the Australian economy is being driven by the COVID-19 pandemic. The necessary social distancing restrictions and other containment measures that have been in place to control the virus have resulted in a significant contraction in economic activity, but economic conditions will improve as the pandemic is brought under control and containment measures are relaxed.
The Australian economy is expected to record a contraction in GDP of around 10% over the first half of 2020 and the unemployment rate is forecast to rise to around 10% in the June 2020 quarter. Beyond the first half of 2020, the outlook for the domestic economy depends on how long social distancing remains in place and its effects on economic activity.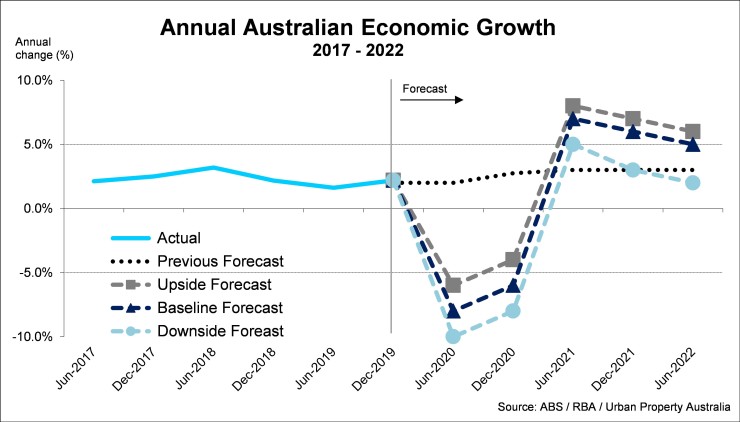 Annual Australian Economic Growth
Having cut official interest rates to a record low 0.25% in March 2020 as the Reserve Bank of Australia (RBA) sought to protect the domestic economy from the fallout of the COVID-19 pandemic, it is expected that the cash rate and other elements of the RBA's monetary stimulus package will remain around current settings until 2023.
The initial phase of the recovery is likely to be primarily driven by the easing in restrictions, which will lead to an improvement in employment outcomes as businesses re-open, as well as a pick-up in household spending. By late 2022, business investment decisions will more strongly shape the recovery.
Assuming that most of the restrictions have been lifted by the end of the September 2020 quarter, aside from the limits on very large public gatherings and international border closures in place until the end of the year; GDP growth is expected to start recovering in the second half of 2020. The Australian economy is forecast to contract by 6% in 2020 before increasing to 6% in 2021. Under this scenario, the unemployment rate is expected to decline substantially from its June 2020 peak of around 10% but to remain above its pre-COVID-19 level until 2022.
The likely economic outcomes for the first half of 2020 are that household consumption to decline by around 15% in the June 2020 quarter. Reduced spending due to social distancing measures accounts for over half the decline. Dwelling investment and business investment are also expected to contract in the June 2020 quarter. The fall in non-mining machinery & equipment investment is expected to be particularly sharp, as firms seek to preserve cash flow in response to the actual and expected falls in private demand.
The introduction of the JobKeeper Payment has significantly reduced the number of job losses that would otherwise have occurred, but employment is still expected to fall by 8% in the June 2020 quarter (or by around 1 million workers). This is expected to see a sharp increase in the unemployment rate to around 10% and a sizeable decline in the participation rate. If realised, this would be the highest rate of unemployment since 1994.
Over the month of April 2020 alone, 594,000 jobs were lost across Australia, with the unemployment rate jumping from 5.2% in March 2020 to 6.2% – the highest unemployment rate since July 2015. By state, 221,000 jobs (or 37% of the jobs lost over the month) were based in NSW followed by Queensland (22%) and Victoria (21%).
The $130 billion JobKeeper scheme, which pays $1,500-per-fortnight wage subsidies, expires in October but will be reviewed in June.
Of the 851,000 jobs Treasury forecasts will be restored by July, 280,000 would be in NSW, 216,000 in Victoria, 174,000 in Queensland, 55,000 in South Australia, 85,000 in Western Australia, 18,000 in Tasmania, 14,000 in the ACT and 9000 in the Northern Territory.
According to the ABS, 975,000 jobs were lost in the five weeks to April 18 with job losses heaviest in accommodation and food services, where more than one-third of workers lost employment, followed by arts & recreation services where 27% of staff found themselves out of work. Other sectors hard hit by job losses were "other services" (12%), real estate services (11%) and administration & support (10%).
After falling sharply in the June 2020 quarter, business investment is expected to remain subdued over the remainder of 2020, as many businesses cut back on discretionary capital expenditure in response to a sharp fall in private demand. Taken together with the sluggish growth prior to the outbreak of COVID-19, non-mining business investment is not expected to recover to its pre-outbreak levels until 2023. Mining investment is expected to remain relatively resilient in the near term.
The deterioration in established housing market conditions is expected to prolong the decline in dwelling investment. The trough in construction activity is now projected to occur in early 2021, half a year later than previously expected.
While non-residential building and infrastructure activity is expected to hold up in the next couple of quarters, reflecting the substantial pipeline of work yet to be done, construction activity is expected to fall from the September 2020 quarter with many projects that have not yet commenced have been put on hold or cancelled.
On May 8, the Australian Prime Minister, Scott Morrison unveiled a three-step plan for restarting economic and social life across the country, setting out an "aspirational" target of July for the final phase, when most workers would be back in their workplace.
Stage one, which Treasury estimates will create about 250,000 jobs and generate $3.1 billion in economic activity, will allow five visitors to a house and 10 people in business and public places. Restaurants, cafes, shops, libraries, community centres, playgrounds and boot camps will reopen and regional travel will be allowed.
People will be encouraged to go back to the office by being urged to "work from home if it works for you and your employer".
Stage two, which Treasury estimates will generate 275,000 jobs and $3 billion in economic activity, will boost permitted gatherings in the home, business and public spaces to 20. Gyms, beauty parlours, cinemas, galleries, amusement parks, and caravan and camping grounds will reopen.
Stage three, which is forecast to generate about 325,000 jobs and $3.3 billion in activity, will see gatherings increased to 100, an end to working from home, the opening of nightclubs, food courts and saunas and, in time for the school holidays, all interstate travel.
Under the three-stage plan agreed to by the states and the Commonwealth to reopen much of the economy by July, approximately 850,000 people are forecast to be back in work.
Copyright © 2020 by Urban Property Australia All rights reserved. No part of this publication may be reproduced in any form, by microfilm, xerography, electronically or otherwise, or incorporated into any information retrieval system, without the written permission of the copyright owner.