Inner Melbourne Apartment Market 2015
January 22nd 2015 | UPA, Urban Property Australia
To date, record population growth has offset record levels of new supply in the Inner Melbourne precinct, but yet more records will be set in apartment development, is there a glut or is this supply meeting the market of the next generation?
Development
Fuelling investment in Melbourne apartments, foreign investors and developers alike continue to be drawn to the world's most liveable city. Sustained low interest rates have continued to push building approvals upwards and driven up sales volumes and housing finance.
The City of Melbourne continued to dominate building approvals with four times greater than the next ranked, City of Stonnington.
Within the City of Melbourne, population is expected to experience an increase of over 77,600 people to 181,325 by 2031. In order to accommodate this population growth it is forecast that a further 40,400 households will be required.
Currently there are 11,600 apartments under construction and forecast to be completed by the end of 2017 within the Inner Melbourne region. In 2014 alone, 6,300 apartments were completed, 133% higher than the 10-year average. Looking ahead, there are further 46,000 apartments that are mooted with plans for development in the Inner Melbourne region.
Of the 75 new developments currently under construction, 48% of the apartments are located in the CBD Core, followed by 23% in Southbank with 13% located in the Docklands precinct.
Demand
The Inner Melbourne region (CBD and 4km surrounds) comprises over 44,000 apartments. Since 2002, the residential apartment stock has doubled from 22,000.
The Inner Melbourne precinct is a relatively young residential population with the average age of residents at 28 years, with more than half (52%) aged 20 to 34 years – a result strongly influenced by the large cohort of international and domestic higher education students.
Immigration into the Inner Melbourne precinct continues at a substantial rate with the Asian nations China, Malaysia and India contributing 39% of all residential growth according to the latest ABS census data.
Whilst the Inner Melbourne housing fundamentals remain positive with current vacancy levels only at 4.4% as at December 2014, however the current level is up from 3.4% recorded in December 2013.
Median Prices & Rents
Apartment values in the Inner Melbourne region experienced growth of 4.9% over the year to September, reaching $542,500. Inner Melbourne apartment rental levels remained steady through 2014 with a median weekly rent of $400, higher than the metropolitan average of $380 per week.
The unprecedented level of completions within the Inner Melbourne precinct is likely to lead to an increase in vacancy, regardless if much of the recent completions remain held by offshore investors.
As a result of boosted number of completions, capital growth for several years is likely to be restrained with boutique developments in fringe locations increasingly popular with owner occupiers and renters.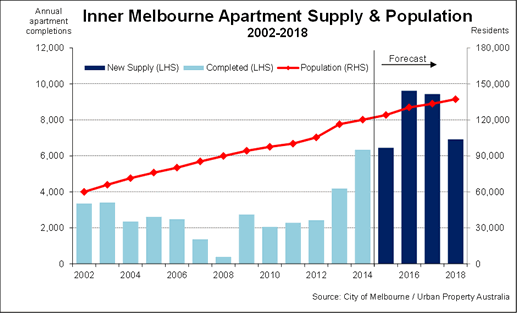 2015-melb-apartments-supply & Population