Infrastructure Key Factor in Economic and Real Estate Health
April 14th 2018 | UPA, Urban Property Australia
'Extensive and efficient infrastructure is critical for ensuring the effective functioning of the economy. Effective modes of transport — including high-quality roads, railroads, ports, and air transport — enable entrepreneurs to get their goods and services to market in a secure and timely manner and facilitate the movement of workers to the most suitable jobs. Economies also depend on electricity supplies that are free from interruptions and shortages so that businesses and factories can work unimpeded. Finally, a solid and extensive telecommunications network allows for a rapid and free flow of information, which increases overall economic efficiency by helping to ensure that businesses can communicate and decisions are made by economic actors taking into account all available relevant information'.
— World Economic Forum
The health of the commercial real estate market relies on high-quality, up-to-date infrastructure as much as any other part of the economy. Homeowners, retailers and industrial and office workers need access to roads, public transportation, utilities and the internet. Infrastructure projects also offer direct opportunities for investors as many of these are public-private partnerships (PPP). In countries where the population is growing fast or the infrastructure is crumbling – or both – public and private entities need to make hard choices about what projects to take on and how to pay for them.
Asia
According to the Global Competiveness Report, released each year by the World Economic Forum (WEF), Australia ranks 28th in the world (out of 137 ranked countries) in infrastructure. Australia is facing demographic challenges that are putting strains on its current infrastructure approach. Its population is projected to grow from about 24.64 million in 2017 to about 36 million in 2050. This is the equivalent of adding a new city the size of Canberra each year for the next 30 years.
About 75% of the projected growth is expected to be concentrated in Australia's largest cities – Sydney, Melbourne, Brisbane and Perth. This will complicate efforts to manage traffic congestion, urban sprawl, pollution and rising home prices. In response to these dramatic changes, Australia, under the direction of Prime Minister Malcolm Turnbull, has created a 'smart cities' plan designed to reduce the average round-trip commute to an hour a day.
The first Australian Infrastructure Plan was released in February 2016, with 78 recommendations designed to improve productivity growth, maintain and enhance the nation's standard of living, and keep its cities vibrant. The plan is to be updated every five years. The government plan seeks to encourage high-quality medium- and high-density development, which would reduce the need for new infrastructure, rather than continue the past emphasis on expanding housing farther from urban centres.
In the last two years, more than $42 billion has been spent – much of it private investment – on infrastructure projects, including pipelines, light rail, hospitals and roads. By focusing on building up urban areas, the government expects to reduce the cost of infrastructure by nearly 40% per capita.
The government is also encouraging smaller cities, which aren't growing as fast, to provide infrastructure needed to encourage growth and, in the process, reduce some of the pressure faced by the largest cities. In addition, the federal government is encouraging the consolidation of local councils, which could lead to better coordination among the smallest cities to meet infrastructure needs.
The infrastructure report notes the extensive private involvement in projects that often are heavily subsidized by the public in other countries, including airports. The WEF believes that the current system of public subsidies for transport is unsustainable because it will require ever-increasing tax receipts to stay financially afloat, and recommends more in the way of toll roads and private investment in mass transport if necessary.
The report's specific recommendations include upgrading urban passenger transport systems, improving the national freight network and increasing broadband service. In addition, it recommends that states and territorial governments should deliver long-term regional infrastructure plans and that all communities ensure that drinking water meets minimum standards.
Australia is not doing as well in infrastructure as some other countries in the Asia Pacific region – especially Hong Kong, which is ranked No. 1 in the Global Competitiveness Report. Hong Kong budgeted about $12 billion to infrastructure projects for its 2017-2018 fiscal year and plans to increase spending every fiscal year through 2021-22. The major projects are hospitals, a sports park, railway projects and new town developments. They are funded by revenue from land sales.
Japan is ranked No. 4 in infrastructure in the Global Competitiveness Report. In 2016, Japan approved a $61 billion infrastructure plan in hopes of doubling the number of tourists visiting the country by 2020, when Tokyo hosts the Summer Olympics. The money will help speed up development of a maglev rail line from Tokyo to Nagoya by 2027, with an extension to Osaka to start construction in 2035; neither of those projects will have any effect on the Olympics. Details still need to be worked out, but the government plans to offer low-interest loans to the privately owned Central Japan Railway Co.
Other Asia Pacific countries are much farther down the list. China is ranked No. 46, despite efforts to boost its infrastructure. China plans to move 250 million people over the next eight to 10 years into the country's megacities, and is investing highways spanning the continent, the world's largest wind power base, airports and new cities in the desert. Perhaps the most audacious (and certainly most expensive) project: By 2030, China plans to move 42 million people from a nine-city region into one giant megacity in the Pearl River Delta that will eventually have a population of 80 million. The project is slated to cost $322 billion.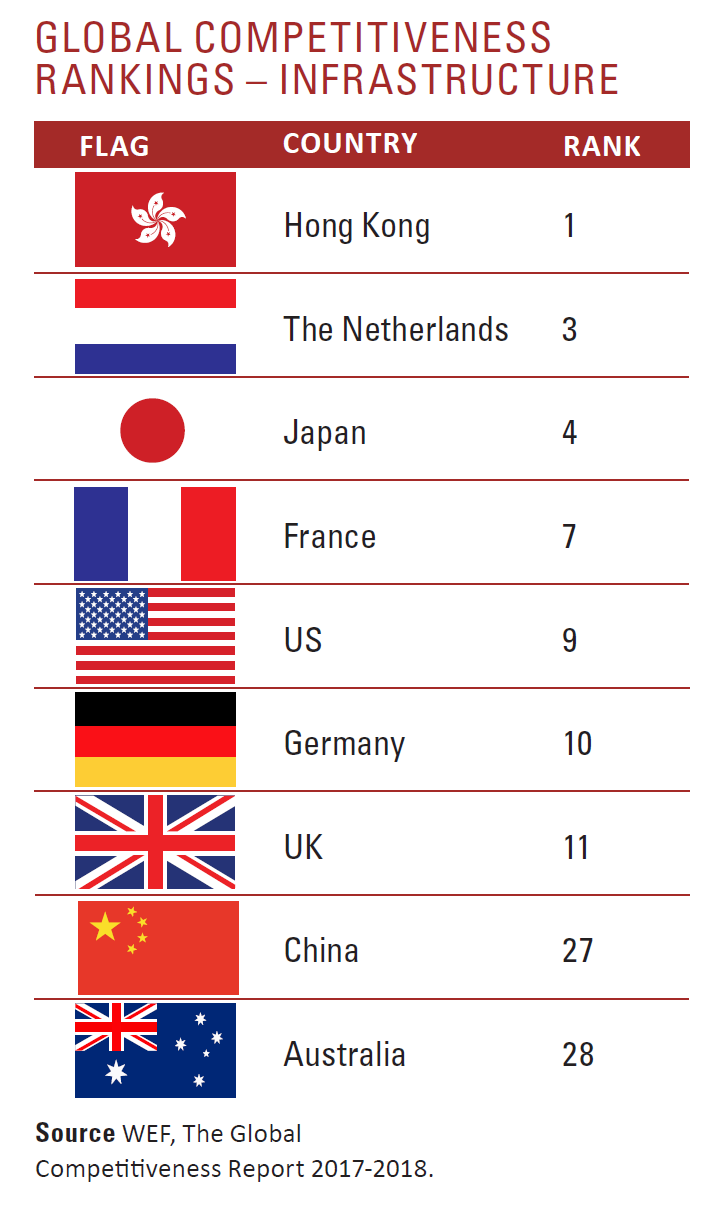 Global Competitiveness Rankins
Europe
UK (ranked No. 11 in infrastructure) unveiled a plan to spend more than £500 billion on over 700 infrastructure-related projects and programmes over the next few years. The projects include the Thames Tideway Tunnel, rolling smart metres and upgrading the A14 road, with a mixture of public and private spending.
France (ranked No. 7) prides itself on having a wide range of technologically advanced transportation options, mostly government operated. Along with its sophisticated mass transport in Paris, it has highly regarded railways, airports and ports.
Germany (ranked No. 10) has avoided much of the economic turmoil facing other countries since the Great Financial Crisis and has kept its budget in balance. But its cautious approach to spending has imperilled its traditional high standing as a world leader in infrastructure. Experts warn that Germany is in danger of falling behind unless it invests more in roads, broadband and public transport.
In The Netherlands (ranked No. 3), the government is committed to spending about €25 billion for constructing new roads, and road users will be encouraged to use existing motorways, waterways and railroads more efficiently. In addition, the EU is providing grants to the Netherlands for various railway, water and shipping projects. The Netherlands currently funds its highways through a national infrastructure fund with express lane fees, regular tolls and taxes.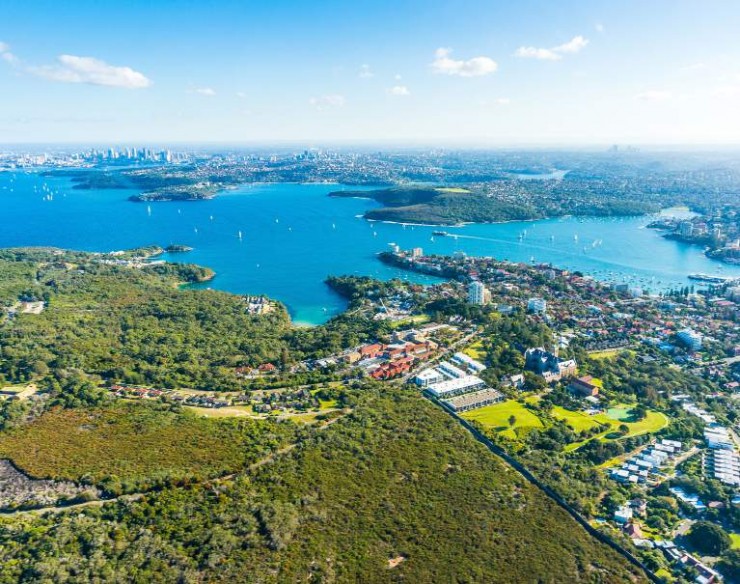 Sydney Harbour
United States
The WEF ranked the US as No. 9 worldwide in infrastructure. This is despite the 'D+' grade the US received in the 2017 Infrastructure Report Card, which is issued every four years by the American Society of Civil Engineers. According to the report, the US faces a $2.0 trillion, 10-year investment gap in infrastructure, which will require substantial increases in the federal motor fuels tax and new fees to improve water, waste, transportation and energy services.
In February 2018, President Trump proposed turning $200 billion in federal money into $1.5 trillion for fixing America's infrastructure by leveraging local and state tax dollars and private investment. In March 2018, Congressional Democrats unveiled their own plan, involving $1 trillion in public spending paid for by rolling back the tax cuts passed last year. With the Democrats in the minority, the chance of their plan passing is nil, but it's unclear yet what if any plan will be passed.