Industrial Property Market Mid 2015
July 13th 2015 | UPA, Urban Property Australia
Melbourne industrial vacancy rates remain at 5-year highs, however vacancy appears to be close to reaching its peak. Over the past 12 months, vacancy levels have increased by elevated levels of speculative development.
Forecast new industrial supply in 2015 is expected to be higher than the 10-year average and its highest annual level since 2008. Boosted by the opening of the Melbourne fruit and vegetable market, the bulk of the pipeline of Melbourne's new supply is forecast to be in the Northern region.
Pre-lease demand remains underpinned by the transport and logistics sector. In addition to the logistics sector, growth in retail spending has contributed to rising occupier demand from both food and non-food based retailers.
While tenant demand is improving, inconsistent leasing activity has resulted in only modest rental growth over the past year. Average prime net face Melbourne industrial rents marginally increased to reach $80/sqm. In contrast, the increasing vacancy levels in the secondary market, resulted in a decrease in secondary rents.
Investment continues to gather momentum with the depth of buyers increasing. Unlisted funds and syndicates continue to be prominent buyers however owner occupier investment has also increased, capitalising on the historically low interest rate levels.
While owner occupier investment levels increased, some occupiers took advantage of the strong investment demand with sale and leaseback transactions becoming increasingly more common.
Supported by the increasing depth of purchasers, yield compression is expected to continue, particularly for prime assets with long leases to quality tenants.
Goodman Group/Brickworks' sale of a refrigerated distribution centre leased to Coles for $253 million in Sydney to an offshore group on a yield 5.78% – setting a new benchmark low yield since the global financial crisis, demonstrates the strong demand for commercial real estate.
While the Victorian Government has detailed plans to spend $22 billion on infrastructure over four years in its 2015 budget, there are few projects announced that will have a direct impact on the Melbourne industrial market.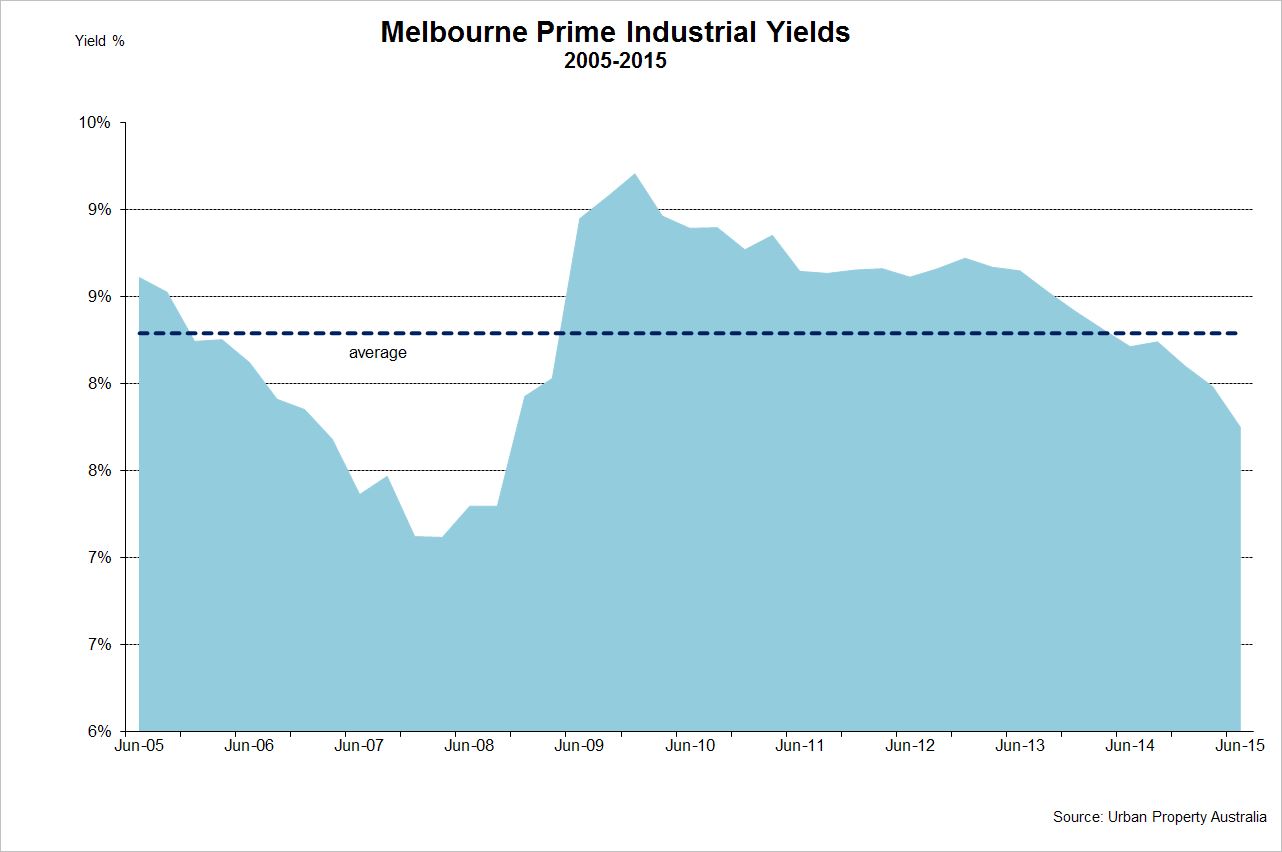 2015-mid-melb-industrial