Global Economic Outlook – July 2018
July 25th 2018 | UPA, Urban Property Australia
As the global economy grew by its fastest pace since 2011, the Australian economy remains resilient, recording its fastest annual pace in two years. Australia is projected to grow strongly through to 2020 as business investment picks up and government infrastructure investment hits record high levels.
Global Economic Outlook
Global growth is expected to increase to 3.9% in 2018 and 2019, supported by accommodative financial conditions and the repercussions of expansionary fiscal policy in the United States according to the International Monetary Fund (IMF).
The global economic upswing that began around mid-2016 has become broader and stronger, picking up to its fastest pace since 2011. World growth strengthened in 2017 to 3.8%, with a notable rebound in global trade. It was driven by an investment recovery in advanced economies, continued strong growth in emerging Asia, a notable upswing in emerging Europe, and signs of recovery in several commodity exporters.
United States
The growth forecast for the United States economy has been revised up given stronger-than-expected activity and the expected impact of the recent changes in fiscal policy. Continuing strength in household consumption growth coupled with a lift in business investment has resulted in the unemployment rate falling to multi decade lows. The U.S. economy is projected to grow by 2.9% in 2018 (up from earlier projections of 2.3%) and 2.7% in 2019. Beyond 2019, as the impact of stimulus fades and the U.S. economy feels the effect of higher interest rates, economic growth is likely to slow in 2020 and 2021.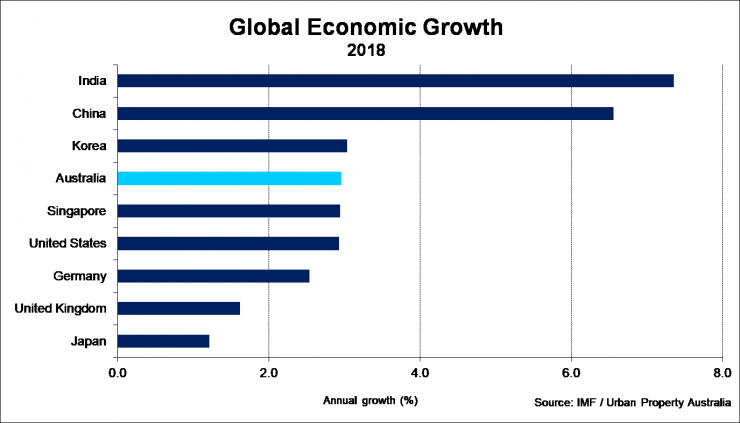 Global Economic Growth
China
China also experienced stronger than expected growth in 2017, driven by robust final consumption and a pick-up in net exports on the back of supportive global conditions. Continued momentum in China in early 2018 and a positive global economic outlook have been reflected in forecast upgrades for 2018 and 2019. China's economy is projected to increase by 6.6% in 2018 and 6.4% in 2019. Over the medium term, the economy is projected to continue rebalancing away from investment toward private consumption and from industry to services.
Europe
Following a prolonged period of subdued growth, the Euro area experienced a broad-based expansion in 2017, its strongest expansion in a decade. While the German and French economies continue to perform well, positive growth have also been seen in smaller European economies. The recovery in the Euro area is projected to pick up slightly from 2.3% in 2017 to 2.4% this year, before moderating to 2.0% in 2019. Although the Euro area continues to strengthen, the enduring uncertainty of negotiations over the United Kingdom's exit from the European Union continues to remain a risk.
United Kingdom
In the United Kingdom, economic growth is projected to slow from 1.8% in 2017 to 1.6% in 2018 and 1.5% in 2019, with business investment expected to remain weak in light of heightened uncertainty about post-Brexit arrangements.
India
India's economy is forecast to rebound after a disrupted 2017. The effects of currency exchange, the implementation of the GST and other structural reforms caused India's economic growth to slow in 2017. India is forecast to reclaim its title as the 'world's fastest growing major economy' in 2018. India's economy is projected to grow at 7.4% in 2018 and 7.8% in 2019, up from 6.7% in 2017.
With the economic outlook strengthening globally, risks appear more balanced in the short term. In the longer term, the global economy faces further challenges with escalating cycle of trade restrictions coupled with China's high levels of debt may pose risks to global economic growth.
Copyright © 2018 by Urban Property Australia All rights reserved. No part of this publication may be reproduced in any form, by microfilm, xerography, electronically or otherwise, or incorporated into any information retrieval system, without the written permission of the copyright owner.