Diving Deep Into Australia
October 31st 2017 | UPA, Urban Property Australia
Australian Economic Outlook
While the global economy appears to be gaining momentum, the Australian economy has been lacklustre. The Australian economy posted growth of 0.8 percent in the second quarter of 2017, after Tropical Cyclone Debbie had an impact on exports in the first quarter of 2017 with the economy growing by only 0.3 percent in the quarter. The pick-up in second quarter 2017 quarter was primarily driven by a rebound in exports and strong government spending.
While Australia has recorded 26 years of growth in Australia without a recession, the annual growth of 1.8 percent as at June 2017 indicates that the economy is growing slower it has in the past. Looking forward, economic growth is expected to pick up to in the second half of 2017, thanks to an increase in LNG exports. Australia's economy is forecast to grow by 3 percent in 2018 and 3.25 percent in 2019.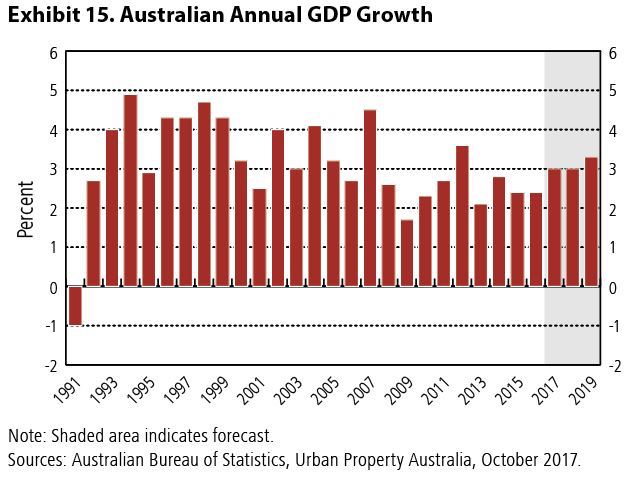 Exhibit 15
Solid labour market conditions and the housing sector continue to support growth in New South Wales and Victoria. Economic growth in Queensland and Western Australia appears to be gathering momentum underpinned by an improvement in the labour market and the recent pickup in resource prices. In South Australia and Tasmania, economic growth remains close to its long-term trend, with the labour market and household sector conditions relatively subdued.
Across Australia, approximately 54,000 seasonally adjusted full- and part-time jobs were created in August 2017, the 11th consecutive month of increases. Given the strong gain in employment, the unemployment rate steadied at 5.6 percent despite the increase in participation. The improvement was broad-based across the states, although Victoria accounted for 40 percent of all Australian jobs created in the year. Interestingly, more jobs were created in Queensland, despite its smaller population, than New South Wales while Western Australia recorded its highest annual employment growth since 2012.
The strong rise in employment is consistent with the strength in job advertisements since the start of 2017. The current level of job advertisements suggest that employment growth is likely to continue through the remainder of 2017. The unemployment rate is now forecast to fall gradually to 5.4 percent through 2017, 5.3 percent by the end of 2018 and 5.1 percent by the end of 2019.
Consistent with the strong employment growth in the first half of the year, household spending was solid in June 2017 at 0.7 percent.
Strength was evident in retail sectors such as clothing and footwear and furnishings and household equipment as well as transport services, communications and insurance and other financial products.
Looking ahead, higher energy prices are likely to weigh on discretionary spending in the third quarter of 2017, with subdued wage growth still hampering retail sales. Household consumption is projected to increase to 2.0 percent in 2018 before picking up to 2.75 percent in 2019.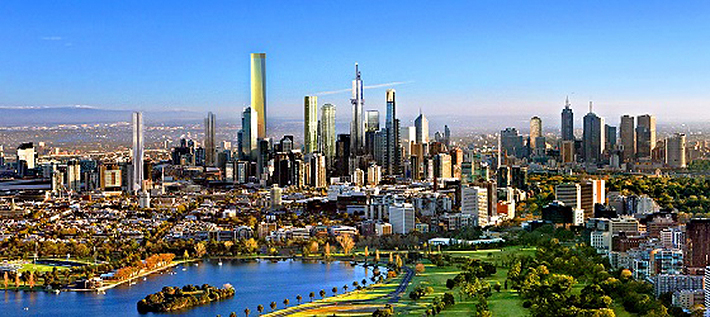 Melbourne Skyline
While Australian company profits fell by 4.5 percent in second quarter 2017, profits have increased by 19 percent year over year. Much of the annual increase was due to the mining sector, where profits rose 60 percent over the year, thanks to rising commodity prices. Both mining and non-mining profits hit record highs in June 2017. The strength in non-mining profits suggests that the outlook for non-mining business investment should continue to improve.
Defying weakness in the household sector and sluggish GDP growth, operating conditions remained near the highest levels seen since the global financial crisis, according to NAB's business survey in June.
In contrast, consumer confidence fell to a 16-month low in August 2017, a trend observed in general since mid-2016, per Westpac-Melbourne Institute.
Government spending was much stronger in second quarter 2017, in large part driven by a surge in public investment, consistent with the increase of infrastructure programs.
Public investment is expected to remain high because of a large number of infrastructure projects, but the growth rate may have peaked. Underlying business investment is forecast to be modestly higher in 2017 (1.2 percent) accelerating to 4.3 percent and 6.3 percent growth, respectively, in 2018 and 2019.
The RBA has left the official cash rate steady for 13 straight meetings at 1.5 percent, even as peer central banks around the world increasingly signal plans to normalise crisis-era monetary policy settings. Buoyed by the economic outlook and improved business confidence, experts are increasingly forecasting that the RBA will raise rates in late 2018. While the cash rate is likely to move upwards next, the RBA will proceed at an extremely cautious pace given its concerns about household balance sheets.
Over the past year, economic growth has increased the most in the Victoria, up 4.7 percent, and the South Australia, up 4.0 percent. Although Western Australian demand contracted by 4.3 percent over the year, the rate of contraction is decreasing, which may indicate that the worst for the state might be over. Queensland's economic recovery continued with its sixth consecutive quarter of economic growth after contracting for the six preceding quarters.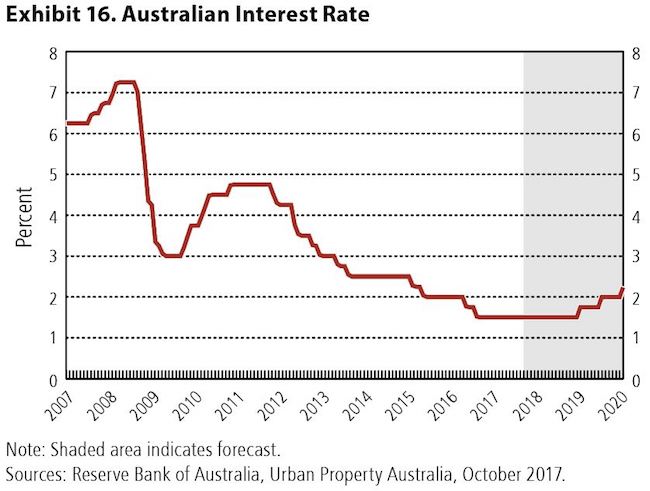 Exhibit 16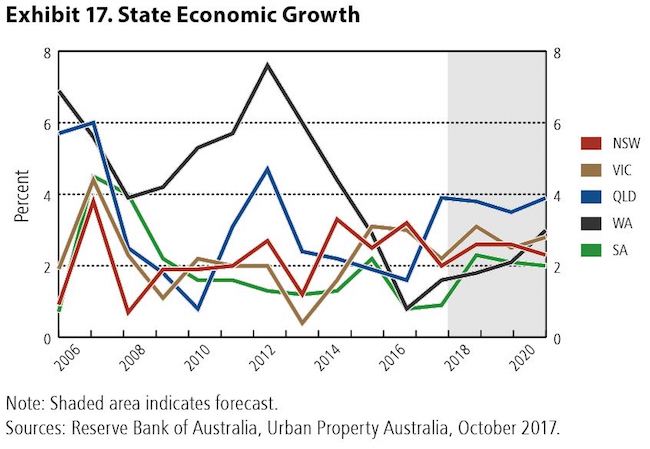 Exhibit 17
Amazon's Proposed Entry in Australia
In 2012, Amazon Web Services was launched and a Kindle Store was started on Amazon.com.au in 2013. In April 2017, Amazon confirmed its plans to formally enter the Australian market.
The next stage is local ordering and local delivery of goods from and within Australia. In the short term, Amazon will be delivering a range of dry goods, or non-perishables, such as canned food and other household necessities such as tissues.
Currently, Amazon employs almost 1,000 people in Australia with estimates that Australian consumers already spend between $700 million and $1 billion a year on Amazon.com.au and Amazon overseas sites.
According to Hitwise data, the most popular categories for Amazon shoppers in the US are Kindles, health and beauty, consumer electronics and groceries. For Australian shoppers viewing Amazon's US website, the top categories excluding Kindle include paperbacks and hardcover books, computers, electronics, toys, health and beauty, and apparel.
Citigroup estimates that Amazon's Australian sales could reach $4 billion within five years, representing about 14 percent of all online sales and 1.1 percent of total retail sales in Australia. In comparison, in the US Amazon now accounts for almost 5 percent of total retail sales and 38 percent of online retail sales, while its share of UK retail spending is estimated to be around 4 percent and its share of online sales 24 percent. Other analysts estimate that Amazon's Australian sales could reach $14.5 billion by 2025, representing 25 percent of online sales.
More than 1,000 Australian companies already sell their wares on Marketplace, which gives them access to customers in Australia and overseas.
About 50 percent of Amazon's revenues come from third-party sellers, some of whom pay the e-commerce retailer commissions and fees to store and deliver their goods under a service called Fulfilment by Amazon, which has been growing 70 percent a year.
Given Amazon's strengths in books, consumer electronics, clothing and sporting goods, Australian brick-and-mortar retailers most exposed will include JB Hi-Fi, Harvey Norman, Myer, Dymocks, Super Retail, BIG W, Kmart and Target.
Online retailers and marketplaces such as eBay, Booktopia and The Catch Group will also feel the heat from Amazon's wide product range, low prices and fast delivery.
Amazon may also open small fulfilment centres or delivery stations in large shopping centres after it launches Prime Now and may partner with Australian food wholesalers and independent retailers to speed delivery of fresh foods when it launches Amazon Fresh.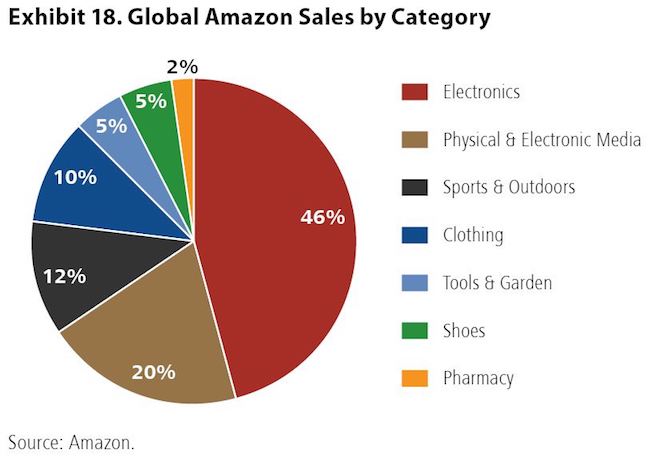 Exhibit 18
Online Retailing in Australia
Australian consumers spent approximately $22.74 billion online in the 12 months to June 2017, accounting for about 7.4 percent of spending at traditional brick-and-mortar retailers over the year. According to the National Australia Bank, online retail sales rose by 0.7 percent in June, with online sales for the year to June 2017 up 7.6 percent. In June 2017, online sales of homeware and appliances accounted for 20.1 percent of all online retail sales followed by media (17.2 percent) and groceries (16.6 percent).
The entry of Amazon is expected to boost online sales growth; however, as a proportion of the total retail market, Amazon and other online retail retailers will remain small.
Overall, online retail is forecast to acquire a further 0.5 percent off traditional brick-and-mortar retailers per annum to 2022.
The impact of Amazon's arrival on convenience-based non-discretionary retail, however, is expected to be limited. In the US, Amazon accounts for only 5 percent of total retail sales, even after 20 years of establishment. And most US online sales are for discretionary purchases – 63 percent of Amazon's sales are in electronics and electronic media.
Effects on Australian Retailers
While rising online retail sales has adversely affected traditional (typically fashion-based) retailers, conversely the evolution of retail trade has fuelled demand for industrial space from e-commerce, retailers and third-party logistic groups.
Australia, with its largely stable retail environment and high per-head disposable income of about US$32,680, represents a huge opportunity for Amazon. Adding to its attractions are the absence of big regional e-commerce players, along with a consumer appetite for online shopping, as seen by the popularity of Click Frenzy, an online shopping festival inspired by the US's Cyber Monday sales.
Despite increasing costs and competition, Coles and Woolworths continue to occupy about 70 percent of the Australian grocery retail market. In preparation of Amazon's arrival, Coles and Woolworths have been focusing on boosting their digital offerings. Amazon will also face competition from German discount chain Aldi, while Kaufland and Lidl have also announced plans to establish Australian operations. Coles's primary rival, Kmart, has already announced that it will match Amazon's low prices. Meanwhile, Harvey Norman has launched a click-and-collect app for its customers.
In order to be able to a grab a significant share of the retail market, Amazon will also have to lure a country of brick-and-mortar shoppers to go online for their everyday needs.
E-commerce accounted for only 7 percent of Australia's retail sales. Despite a 7 percent year-over-year increase in sales in June 2017, the country's online market is smaller than that of other western countries and less tempting than Asian markets such as South Korea, China and India.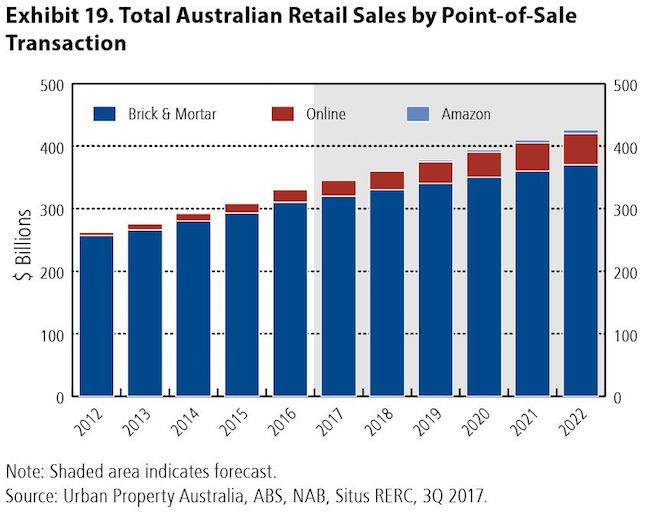 Exhibit 19
Situs RERC/UPA Survey Experts Weigh in on Amazon
The September 2017 Situs RERC/UPA survey results reveal that 93 percent of total respondents believe that Amazon will be a success in Australia with 41 percent of respondents stating that Myer and David Jones are the most vulnerable to Amazon's entry into Australia.
The September 2017 Situs RERC/UPA survey results reveal that the greatest impact of Amazon will be felt on the bulky goods and high street retail sectors with the least impact on the CBD retail sector.
Amazon's arrival will widen options for consumers while putting pressure on prices. The retail offer in Australia (both local online and offline channels) generally has been weaker, but with Amazon's entry into Australia — along with other international retailers in recent years — an increase in the quality of the competition likely will lead to weaker retailers being pushed out.
For landlords, it shows the shopping centre is not static, and remixing must be an ongoing and central strategy for a shopping centre to maintain its relevance.
Amazon will simply be another factor pushing property owners to remix with secondary centres, the most vulnerable to the impact of online retail.
Effects on the Australian Industrial Market
The arrival of Amazon will not only shake up the Australia retail sector but also support the expansion of small online traders, further boosting the demand and development of distribution centres and warehouses to fulfil consumers' requirements of prompt delivery of online purchases.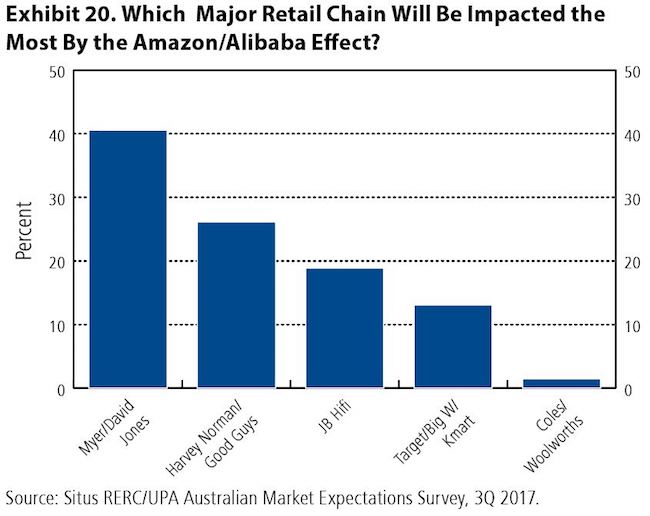 Exhibit 20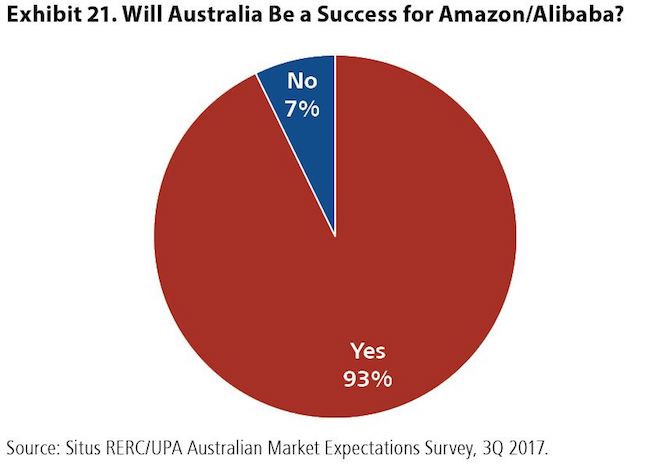 Exhibit 21
The continued growth in e-commerce (with online retail sales up 7.6 percent over the last year), was demonstrated with by the strong take-up of industrial facilities by retailers and associated suppliers, as many attempted to improve and consolidate their supply chains. Over the year to July 2017, logistic and transport companies, retailers and wholesale traders accounted for 60 percent of all Australian industrial take up.
According to CBRE research, E-commerce operators require an estimated average of three times more space than traditional warehouse users due to the way items are packaged and the volume of goods handled.
Recently, Amazon has agreed to lease the 24,387-square-metre former Bunnings distribution centre at Dandenong (in South East Melbourne). The vacant warehouse, which stands on a 7.7-hectare site, could potentially be doubled in size to suit Amazon's needs.
Amazon's logistics network believed to include one fulfilment centre in each of Brisbane, Sydney and Melbourne, with hundreds of 250-500-square-metre metropolitan delivery centres to service customers. Fulfilment centres are the massive sorting centres of up 100,000 square metres with robots called Kivas. Amazon also uses fresh food distribution centres, which average about 40,000 square metres, across the 14 countries Amazon operates within.
In addition, Amazon incorporates delivery centres, the last leg of the chain, which are typically much smaller (250-500 square metres) and use multiple courier services to send products to customers.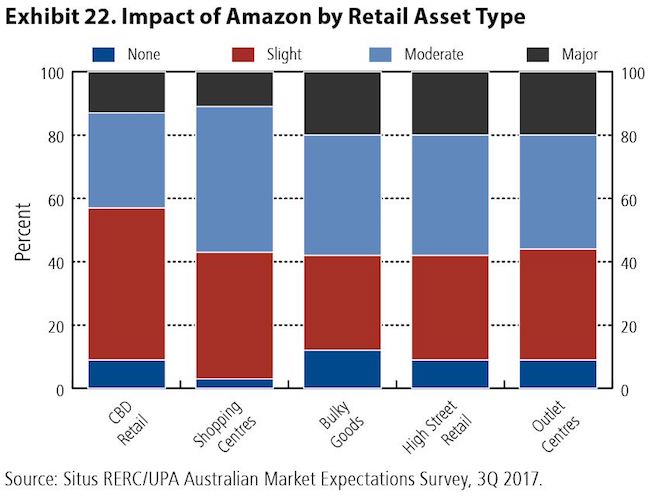 Exhibit 22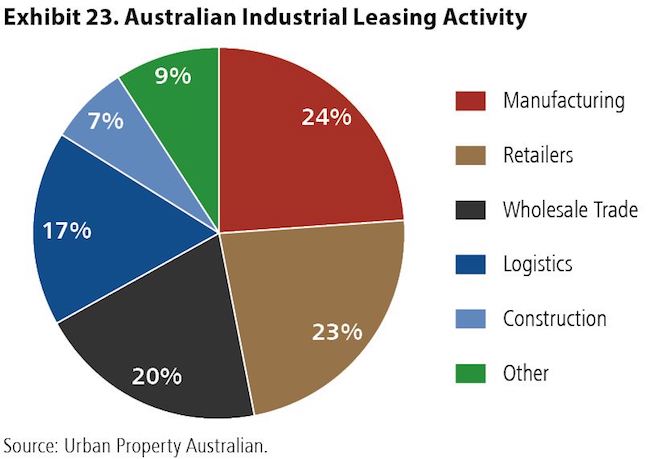 Exhibit 23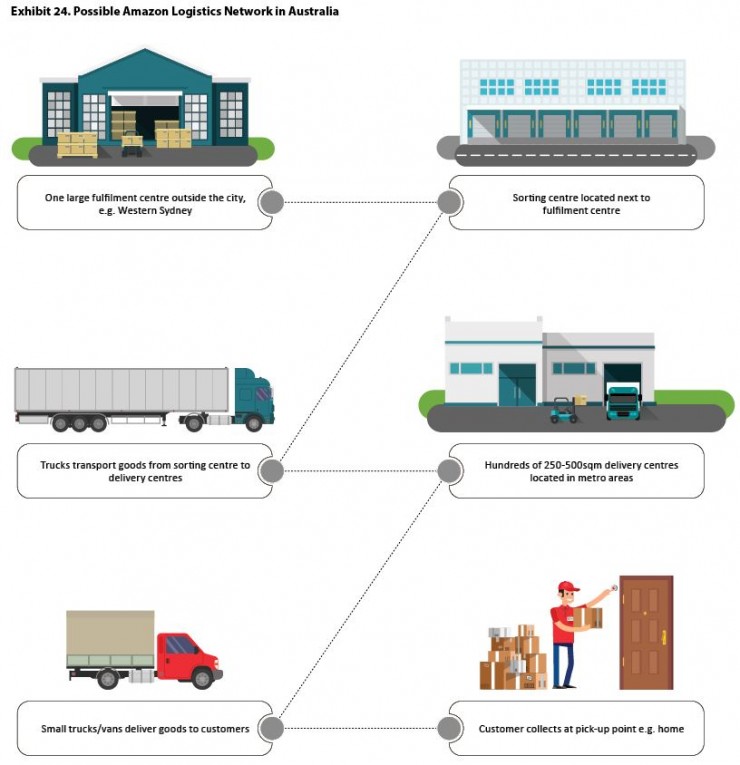 Exhibit 24