Australian Economy – December 2018
December 12th 2018 | UPA, Urban Property Australia
Australia's economy appears to be slowing much more rapidly than expected.
The Australian unemployment rate has now fallen to its lowest rate in six years.
Recent government budgets indicate that infrastructure spending will remain strong.
The Australian economy grew by 0.3% in the three months to September, or 2.8% over the year, the weakest economic expansion in two years. The annual growth figure is also a significant step down from the 3.4% growth recorded in the second quarter. This reflects weaker than expected construction and business investment levels, as well as a general softening in the housing sector. Despite a strong contribution from net exports and government spending, it appears the domestic economy has softened markedly.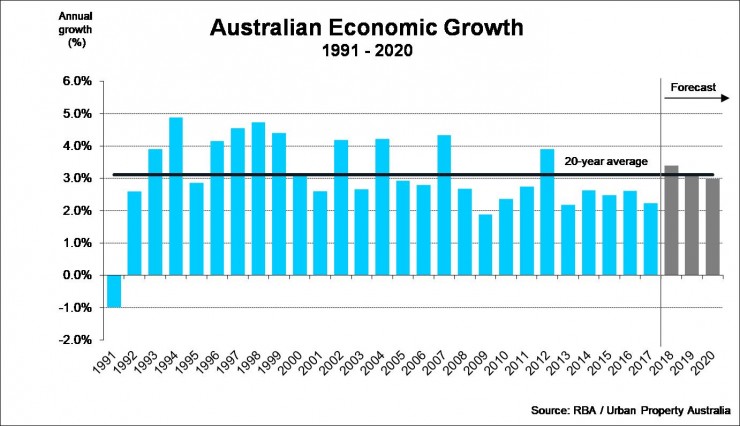 Australian Economic Growth
In recent years, consumption growth has been relatively resilient and has generally exceeded income growth as the household saving ratio declined. In 2018, household consumption was driven by strong growth in expenditure on food (3.9%) and clothing (4.8%) more than offsetting a decline in motor vehicle sales. While the recent pick-up in labour income growth is timely, the recent declines in housing and equity prices will weigh on household wealth likely resulting in consumption to remain steady next year.
Despite the weakness in the housing sector, consumer confidence remains positive, with the Westpac Melbourne Institute index of consumer confidence sitting in positive territory for the entire 2018 year (114.2 as at November); contrasting the previous 12 months when consumer confidence was negative for the year.
While non-mining business investment decreased by 0.6% over the year, non-residential construction activity (non-residential building and infrastructure projects) remains strong. Office construction was the largest driver of non-residential building investment, consistent with strong tenant demand in Sydney and Melbourne. Leading indicators (spending on plant, equipment and machinery) suggest that non-mining business investment will recover over the next two years. The pipeline of infrastructure to be completed remains large and recent state and federal budgets indicate that infrastructure spending will also remain strong.
While the NAB business confidence index has eased back from the high levels seen earlier in the year, it remains well above average. Interestingly, confidence is highest in South Australia, followed by Western Australia and Queensland. By industry, confidence remains highest in mining, followed by manufacturing; while the retail sector recorded the weakest confidence levels, reflecting the persistently weak conditions in the industry.
Over 2018, employment grew by 310,000 which is approximately 60% above the 10-year average. Employment has grown strongly since the start of 2017, with full-time employment accounting for most of the growth over the past two years. By state, the largest increase in employment was in NSW at 151,000, outpacing gains of 93,100 and 25,800 respectively in Victoria and WA. The unemployment rate has now fallen to 5.0%, the lowest level since April 2012.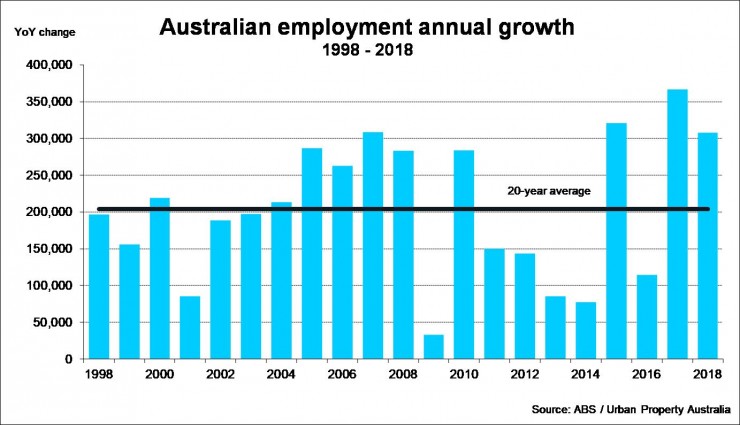 Australian employment annual growth
Labour demand indicators suggest that the above-average growth in labour demand will continue in the short term. While the bulk of job vacancies remain based in NSW and Victoria, job ads have also increased sharply in WA, reflecting the improving economic conditions in the state.
Domestic financial conditions remain accommodative for households and businesses. As expected, the Reserve Bank of Australia (RBA) kept its cash rate unchanged at 1.5% at the December monetary policy meeting, maintaining the status quo that's been in place since August 2016. Financial market prices suggest that the cash rate is expected to remain unchanged over the year ahead. Money market interest rates have been a little higher this year than over 2017 and this has resulted in a small increase in funding costs for banks. Banks have responded by passing on a small increase in interest rates to business and housing loans. Nevertheless, borrowing rates remain low by historical standards. Growth in housing credit has eased, most notably for credit extended to investors. While housing credit conditions are tighter than they have been for some time, growth in the demand for credit has also slowed.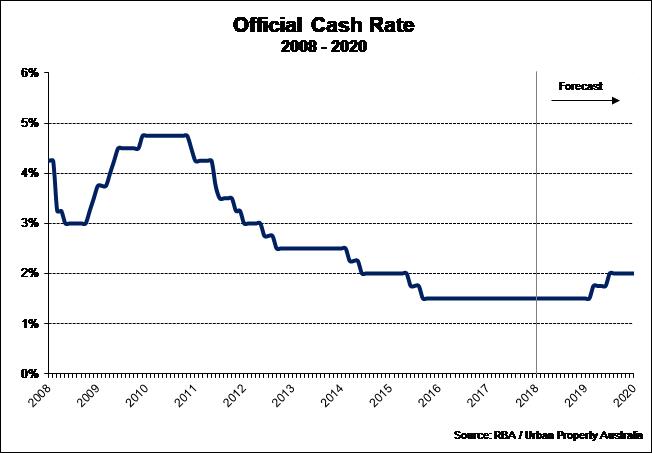 Offical Cash Rate
For the Australian states, the economic outlook is robust in the view of the states. Domestic demand in all states are increasing above average with the exception of WA. Victoria, currently experiencing a population boom, is the standout economy, with state demand growth of 4.3% – above the 10-year average of 3.0%. Broad based spending strength, across consumers, home building, business investment and government is evident in both Victoria and NSW. Strength is also reasonably broadly based in South Australia and Tasmania.
Copyright © 2018 by Urban Property Australia All rights reserved. No part of this publication may be reproduced in any form, by microfilm, xerography, electronically or otherwise, or incorporated into any information retrieval system, without the written permission of the copyright owner.