Amazon the Disruptor
October 31st 2017 | UPA, Urban Property Australia
On 20 April 2017, Amazon announced plans to bring its online shopping platform to Australia in 2018. While Amazon has been a player on the continent since 2012, its scope of services has been limited.
The announcement has far-reaching consequences for Australian real estate, particularly for the retail and industrial sectors. In other parts of the world, the Amazon powerhouse has taken the retail industry by storm. Retailers, even traditional industry darlings, are struggling to compete.
As a result, many commercial real estate investors are worried that they will have difficulty finding or retaining tenants. Amazon's typical offering of expedited delivery service means that supply chains and infrastructure have had to adapt at a record pace.
Given the behemoth that is Amazon, many retailers in Australia will have to ramp up their strategies to compete.
According to a recent report from Commonwealth Bank of Australia, more than 40 percent of retailers view Amazon as a threat, but only a few have a strategy in place.
Most retailers plan to provide superior customer experience and better products to outcompete Amazon. The Chinese firm Alibaba is also setting up shop in Australia, although its operations will be significantly smaller than Amazon.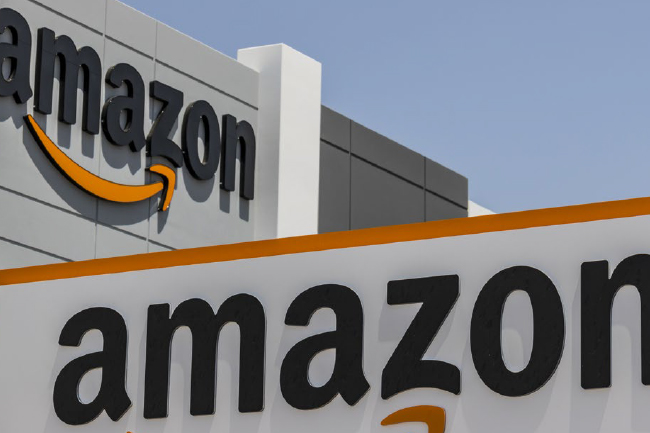 The impact of Amazon on commercial real estate has been well-documented in the US, Canada and Europe (see pgs. 6–13 of this report) and it is reasonable to assume that Australian CRE will encounter similar challenges. As many retailers in the US announce bankruptcy and shutter stores, certain types of retail properties, such as Class B and Class C malls, are becoming obsolete.
However, many real estate experts believe the US retail market was overbuilt and that shedding stores reflects a natural cyclical shift for retail commercial real estate. The US has the greatest amount of shopping centre space per capita, followed by Canada and Australia (see Exhibit 1).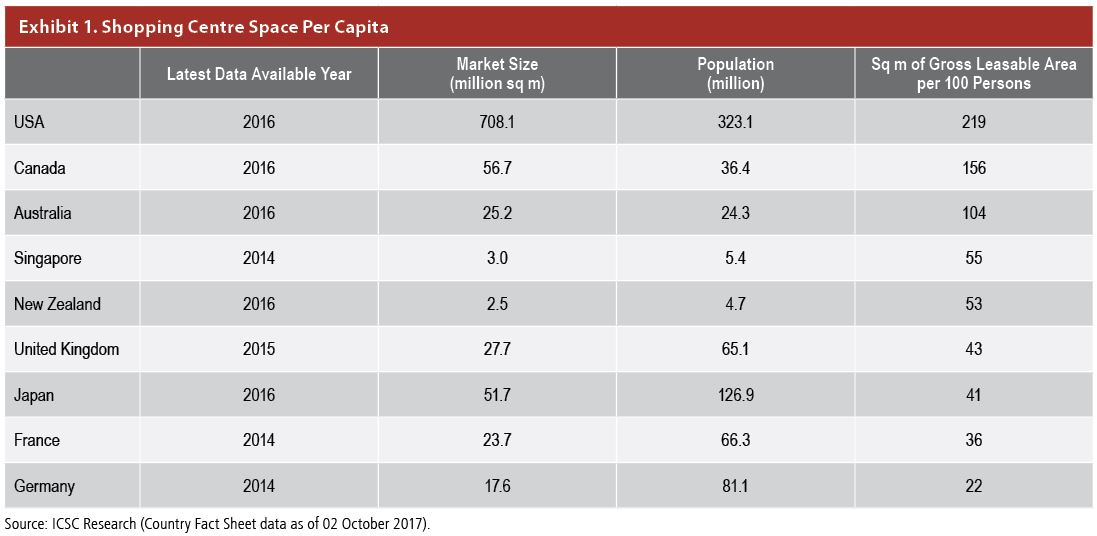 Exhibit 1
According to the Wall Street Journal, the "Amazon effect" has been more pronounced in the US than anywhere else due to a glut of retail stores, thousands of which have been closed in recent years. American brands are also more dependent on selling products through department stores, and they have been harder hit by struggles at big chains. Stock prices for European and Australian retailers have fallen this year because investors are becoming more worried about the "Amazon effect." Australia should start feeling this impact over the next three to five years, according to the Wall Street Journal.
However, it is important to distinguish between Amazon's effect on retail merchandising and its effect on retail real estate (i.e., brick-and-mortar establishments).
The challenges facing the retail industry do not necessarily translate into troubles for property owners or private equity investors.
No doubt, Amazon will rattle the retail industry, but assuming that properties are in prime locations with adequate infrastructure and amenities, and the ability to easily be repurposed, the space will continue to be in high demand. The tenants may come and go, but the space itself remains.

There is a bright side to Amazon for commercial real estate. As evidenced in both North America and Europe, industrial distribution centres have benefited from the surge in e-commerce.
Demand for space has overtaken supply, and competition in the market is fierce.
E-commerce retailers typically require a greater amount of space than traditional retailers and supply chain constraints, such as last-mile delivery, pose challenges for owners and occupiers in the sector.
The lack of existing distribution centres in Australia (especially those that will meet the needs of giant e-commerce retailers) will mean that the sector will be strong for the foreseeable future.