press-media
RECON: Real Estate Outlook for 2020
January 28th 2020 | RECON , Urban Property Australia
It's a new decade and a new year, as real estate experts from Urban Property Australia, Riskwise and the Real Estate Institute of Australia share their thoughts.
RECON, 28/1/2020
2020s to see what lies ahead for the residential market. In the closing stages of 2019 the market had a strong finish, according to Sam Tamblyn of Urban Property Australia.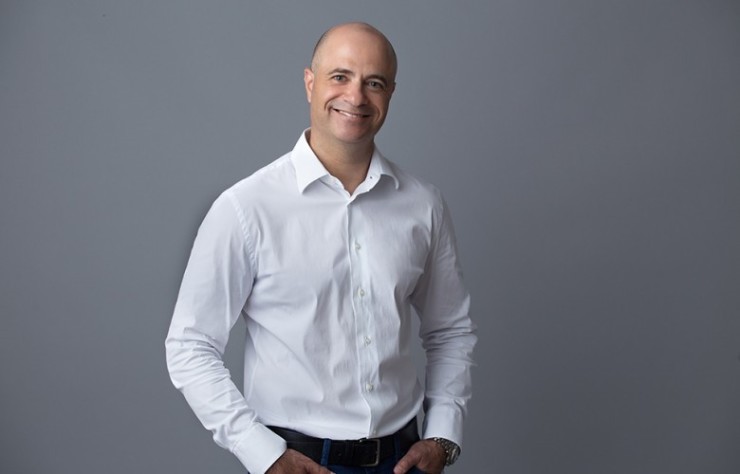 Doron Peleg
At a glance:
Prices are high across Australia, but remain below previous highs
Tasmania has enjoyed exceptional growth, but has become unaffordable in conjunction with low median weekly wages
South Australia may see an increase in prices, while Darwin prices are on a go slow.
Sydney and Melbourne
"Since the May 2019 federal election result; prices, access to finance, approvals and sentiment all rose," said Mr Tamblyn.
"While prices remain below their previous highs; prices in both Sydney and Melbourne have generally risen by 5 per cent through 2019.
Looking into 2020, Mr Tamblyn said Urban Property Australia expect that prices will continue to recover as population growth continues to outpace new supply which was constrained by tight development financing.
Growth of loan commitments
"With demand for housing remaining healthy, UPA expects the emergence of the build-to-rent (BTR) sector over 2020," said Mr Tamblyn.
The growth of new loan commitments by lenders was confirmed in the latest release of housing figures from the Australian Bureau of Statistics.
Adrian Kelly, president of the Real Estate Institute of Australia said the increase was being driven by owner-occupiers.
"In seasonally adjusted terms, the value of owner-occupied finance commitments, excluding refinancing, increased by 1.8 per cent for the month and 5.9 per cent for the past year," said Mr Kelly.
"The finance commitments for November reflect a continuing interest and boost in confidence in the real estate market in the later part of 2019."
Drilling down and looking around Australia the outlook has mixed forecasts.
Tasmania
In Tasmania while house prices have enjoyed exceptional growth in recent years, there has been a marked drop in this increase which is highly likely to continue, according to the RiskWise Property Research Risks & Opportunities Report.
CEO Doron Peleg said one of the key reasons for the deceleration was that the state remained less affordable than five of the states and territories (in price-to-income ratio) making the market less attractive to investors and owner-occupiers.
"Other factors include the economic growth of Tasmania, which is ranked fifth in Australia, having the lowest median weekly wage and low annual wage growth of 2.3 per cent," said Mr Peleg.
"As house prices continue to rise, they are becoming less affordable due to the low median household income and less affordability means less demand, which affects price growth."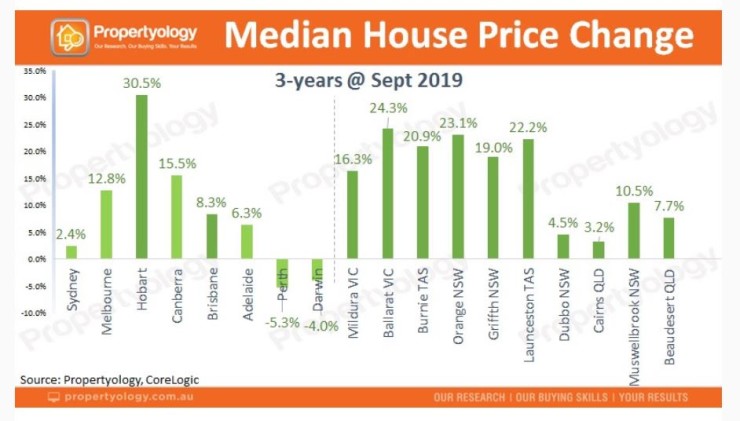 median_house_prices
South Australia
In Adelaide Mr Peleg said there were more positive signs with an increase of 8.6 per cent since February 2019 after a reduction of 6.6 per cent relative to August 2018.
"Buyer confidence has increased in South Australia, particularly Adelaide. This has also improved auction clearance rates and, consequently, it appears dwelling prices have reached the bottom," said Mr Peleg.
Northern Territory
In the Northern Territory, the poor economy continues to play a part in its subdued property market with 15.6 per cent price reductions for houses in the past five years and a massive 29.4 per cent for units, according to Mr Peleg.
"While dwelling supply in relation to population growth is low and dwellings are very affordable, the low demand for housing makes the Northern Territory a risky area especially given the low level of private investment that is significantly below the growth levels during the mining boom," said Mr Peleg.
"According to CoreLogic, Darwin house prices peaked in 2014 and fell 15.6 per cent over the past five years. However, improved housing affordability slightly reduces the risk associated with houses from medium-high to medium."
He said it was likely houses in the Northern Territory would deliver poor or negative capital growth in the short to medium term.
However, as more than 67 per cent of houses in the territory were owner-occupied and held for a long period of time, he said they carried a lower level of risk than units.
https://www.therealestateconversation.com.au/news/2020/01/28/real-estate-outlook-2020/1580164970