press-media
Celebrating our 10th Anniversary at Urban Property Australia
November 21st 2019 | UPA, Urban Property Australia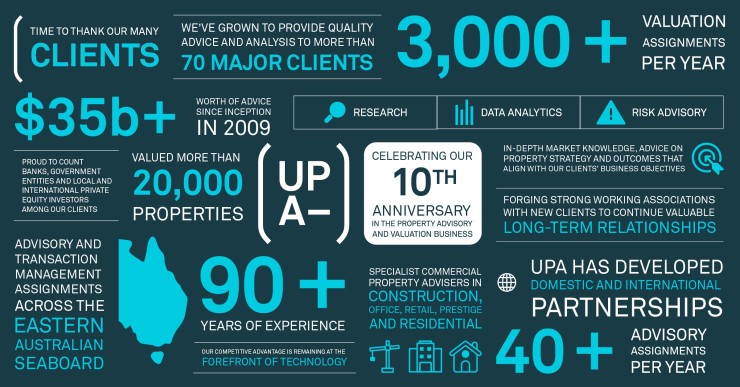 Celebrating our 10th Anniversary @ Urban Property Australia
At Urban Property Australia, we're celebrating our tenth anniversary in the property advisory and valuation business. It's a time to thank our many valued clients and take stock of our achievements over those ten years. Since our founding in 2009 we have been encouraged by the expressions of appreciation from those clients and by their continuing support over many years.
In the past ten years, we have advised on more than AU$35 billion in real estate transactions. From a standing start, we've grown to provide quality advice and analysis to more than 70 major clients. We've valued more than 20,000 properties and are currently averaging well over 3,000 assignments each year.
We are proud to count banks, government entities and local and international private equity investors among our clients. They count on us for in-depth market knowledge, advice on property strategy and outcomes that align with their business objectives.
Looking beyond our initial core markets, UPA has now developed domestic and international partnerships, expanding our research, data analytics and risk advisory capabilities. This has allowed us to take on advisory and transaction management assignments across the eastern Australian seaboard.
These ten years have been an immensely rewarding. But now we're focusing on the next ten. We look forward to continuing those valuable long-term relationships with our existing clients and to forging strong working associations with new ones. We plan to retain our competitive advantage by remaining at the forefront of technology, allowing us to provide superior service and valuable insights in the rapidly changing world of property.
As Managing Director of UPA, I would like to express my personal thanks to the many people and organisations who have contributed to our success over the past ten years. We are committed to making the years to come equally rewarding for all of us.
Regards, Sam Tamblyn
#urbanpropertyaustralia #advisory #valuations #australia #upa #melbourne #construction #office #industrial #retail #prestige #residential #research #10years